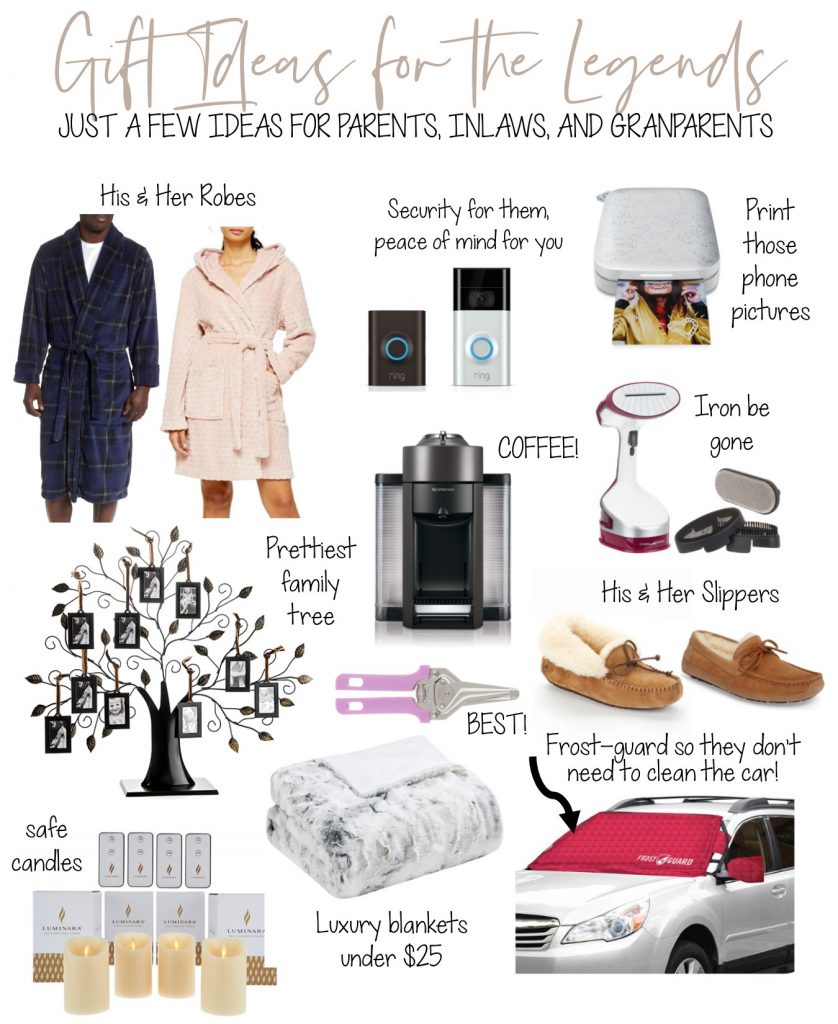 When I asked you what gift guides you were still needing to see… this was the top request! There's no doubt that shopping for parents, grandparents and in-laws can be TOUGH- so I did my best to round up some of my all-time favorite gifts- for the legends on our lists!
Whenever I'm buying gifts for parents, in-laws and grandparents that aren't sentimental- I ALWAYS go for functional. I love giving a gift that will solve a problem and just make life easier! These are some of my favorites.
His and Her Robes
I feel like everyone could use a nice, new robe to start the year off fresh! It's one thing I HATE spending money on, so it is a welcomed gift! I love finding super cozy ones that don't break the bank. Try this one for him, and this one for her!
Frost Guard *A Sunset Squad Favorite!
Mike and I bought these a few years back and we have been obsessed since. We of course have now purchased them for every member of our families too. These covers go across the windshield of the car to block ice and snow from coating the glass in inclement weather. I am ALWAYS stuck at work in the snow and cleaning off my car was the worst part. Now I keep this in my car, throw it on my windshield before the day starts and peel it off once the day is over- snow and all! I hop in my car and drive away- no clean up needed!
The Ring Security System
I didn't think I wanted a Ring doorbell since I basically never answer the door (hashtag introvert problems) but once I got one- I cannot live without it! I love being able to see my house when I'm not home and I love being able to communicate with people outside the door if I don't want to answer. It's great to even be able to check up on our loved ones' homes too!
HP Sprocket Photo Printer
I used to visit my grandma and show her all of the pictures on my phone, and one day she looked at me and she said "Tell me, do these pictures ever come out of the phone?!" To her it seemed odd we never printed them like we used to. If your relatives are feeling the same- this will fix that right up! Great for printing pictures of grandbabies and pets and all of the memories we share! (Plus, replenishing the photo paper is a great gift for future holidays too!)
Family Tree Frame
My family is BIG on geneology, and in this day and age of genetic tests to find our ancestors this gorgeous frame can be a great way to display the whole family for generations! A stunning piece to add to a home.
Nespresso Coffee Pot
Another gift I feel everyone wants but never wants to buy! These espresso coffee pots come in so many varieties at SO many different price points! We have the most basic and we love it. This one won't break the bank but is an amazing addition for the family get-togethers.
Rowenta Steamer
Gone are the days of trying to iron clothes perfectly… these steamers are the BEST and will be much appreciated when making chores easier. My dad even uses one and he's never been one for chores…
Kuhn Rikon Set of (4) Shears with Gift Boxes
These look like the silliest things but when I tell you that they are the GREATEST gift- I mean it!! We cannot live without ours! They cut through everything- even those thick plastic containers that things come in these days. My grandma could never get packages open until we got her these! Best part? They come in a pack so you can give multiple people gifts- great as stocking stuffers too!
His & Her Slippers
Everyone needs a new pair of slippers and Uggs are the best around. You can find hers here and his here!
Luminara Candles
Because I am a paranoid human and I was raised by a fireman, I hate giving candles as gifts- ESPECIALLY to my older relatives. A few years back I took a chance and ordered these "fake candles" to see what all the rage was about and my heart skipped a beat. These are the most realistic flameless candles you'll find- so much so they use them in DISNEY! They are an amazing gift everyone can find use for- and they provide so much comfort and ambiance. A guaranteed hit!
Cozy Blankets
Another great gift everyone appreciates is a cozy blanket. They can run you anywhere from budget-friendly to a pretty penny- so you'll be sure to find one that you love! These are the most luxurious I've found- for $25! Stock up and give them with pride.
2019 Holiday Gift Guides
Cozy Gift Guide for Introverts or Homebodies
Men's Gift Guide – Whether He's Outdoorsy, Fashionable, or A Classic Everyday Guy
For the Beauty Lover That Has It All
What to Teachers ACTUALLY Want to Receive for the Holidays