The first time I used Monat I hated it. Really. I gave up on it after one use. Luckily a friend of mine had started using it months before me and she was able to encourage me despite my initial hesitations. I've kept this a secret for a few months because I don't know that you'll love these products the way I do.
That said, on the off chance you're feeling like you've tried everything else to grow your hair's length, thickness and strength, then this post might just be for you. Read on to hear more about my experience and why I look forward to washing my hair more than I ever have.
I consider myself a hair care connoisseur, but not only because I've tried SO MANY products over the years. I am an odd duck and like to READ about hair. I know- what a way to spend a Friday night. I know more about this stuff than one person should- so I know how to spot products that are completely full of hot air.
So many prestige products that come highly recommended are filled with silicones and other nonsense that just mask hair problems, which is why I wanted to try something TOTALLY new. You know how picky I am and I tend to be the odd man out with products too. I have tried some of the most popular lines in the blogging world and hated them. (and not been shy about saying so) So I'm going to cut to the chase. This stuff WORKS. The difference in my hair, especially the thickness, in ONE MONTH of using Monat blew my mind. And YOU'VE been noticing too. See for yourself.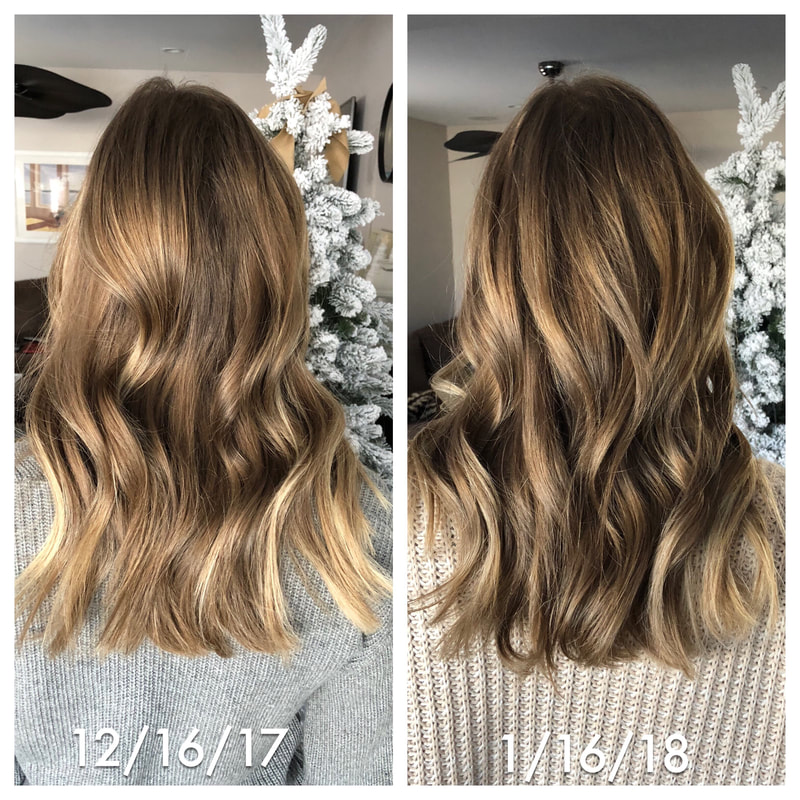 True Story: When I washed with this stuff I was shell-shocked. My hair felt AWFUL. Until I dried it. Once I did I couldn't believe what I was seeing. It looked STYLED- not just dried- and I used ZERO styling products.
Over the next month or two I started seeing subtle changes that made my skeptical mind wonder. My HAIRLINE seemed fuller- my HAIR seemed fuller- and I was obsessed with how it felt. So many of the testimonials I have seen are from new moms who had major hair loss and needed something to fix it pronto. I see now why they rave about these products. I have NEW hair growth and my hair is starting to look the way it did in high school.
Biggest Hair Improvements With Monat
Strength and resilience
Thickness and growth
Shine
This is my progress with the EXCLUSIVE use of Monat products only for two months- I also had a two inch trim in between this time.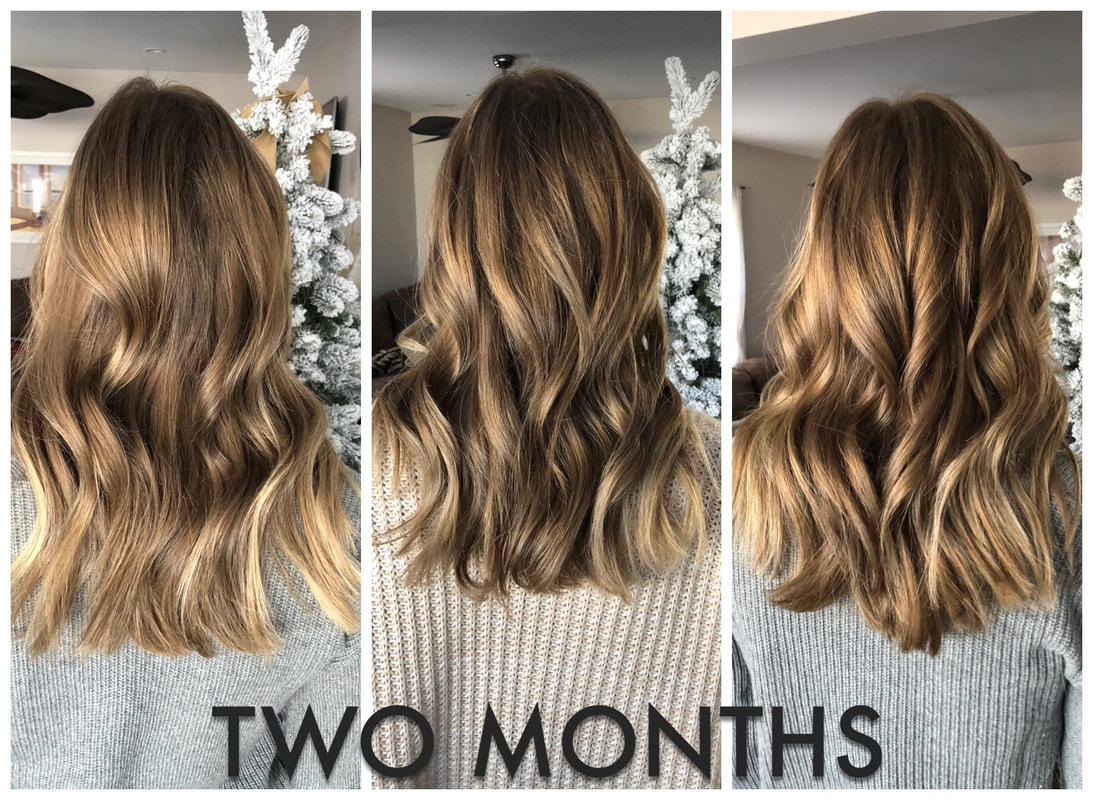 So why do I think you may not like it?
I've got three reasons:
1. Because IT IS A PROCESS. These products are not ones that change your hair overnight. In fact- you may actually hate your hair in the beginning. I did. Some people go through a detox, some don't. You have got to stick with it in order to see results- and it takes patience. That said, once you start seeing changes- that might be reason enough to stick with it.
2. I'll spare you the technical talk but Monat is an actual science– and you need to find what works for your hair the way you would for your skin. It's trial and error and I can see why people wouldn't want to venture on to that kind of journey. For me though, I was at the end of my rope.
​
3. Lastly, the cost looks scary at first. It costs the same as prestige hair care like Oribe, but you need less products. Because I need less products, I wound up spending less in the end. All I use is shampoo, conditioner, dry shampoo, and repair oil. I don't need a single styling product, which has saved me a boatload. Plus they run sales ALL THE TIME. I did some math for myself before I ordered because I wanted to see the numbers before I ordered.
Monat pricing compared to other haircare systems
I added up the hair products I was using- less the various deep conditioners and incidental other things I would buy. The total was $178, and that's a low-ball. The system of Monat is less than that- and I got my first system on sale. In the end- I am saving money, and my hair looks a million times better.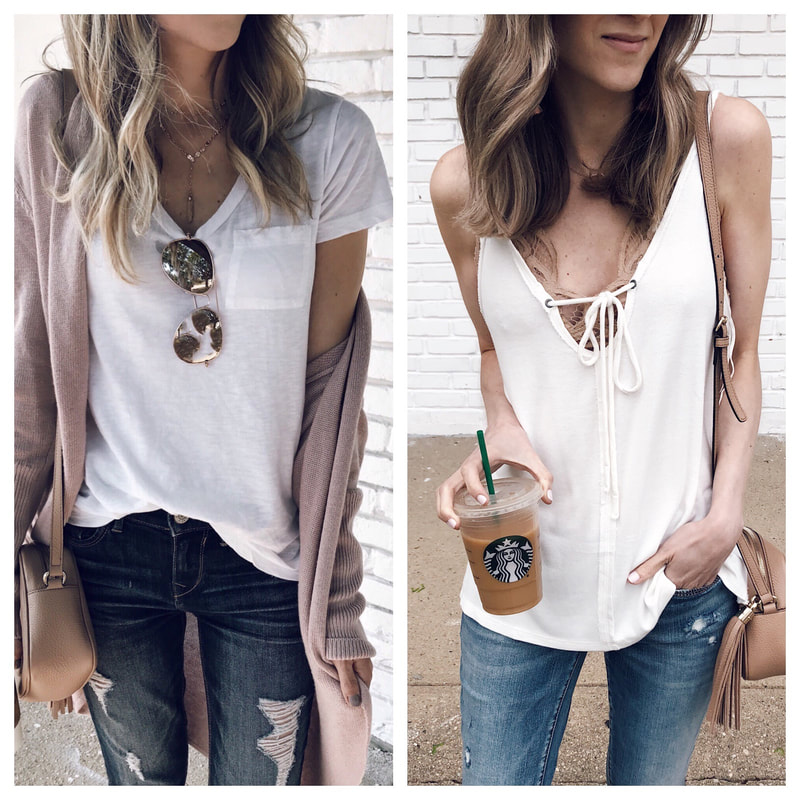 Just in case you're still here and awake- and because you may be looking for some guidance and honest feedback- I've gone ahead and reviewed the only products I think you'll need as a starting point to try this line. Keeping in mind though that what works for me might not work for you at all. Kind of like skincare or makeup.
I have ONE RULE for using Monat. Don't stop until it's dry. I'll explain.
Top Monat Picks:
Volume shampoo:  This is the volume shampoo and it's the most universal line they have. If you aren't sure where to start, this would be the place. 
In the beginning of using Monat there is a detox. When you wash your hair it is going to feel horrifically bad. Matted. Knotted. Just awful. Then you put the conditioner in and magic happens. When you get out of the shower and try to brush through it- again- nightmare. DO NOT QUIT. You will be convinced this is the worst hair experience you've ever had. UNTIL YOU DRY IT. Don't stop until it's dry because once it is- you won't believe your eyes- or your hair. Your hair will be light, shiny and look like you have a million products in it- when you don't.
Renew Shampoo: After you clarify your hair with the volume line your second wash should be with a shampoo that will add moisture. Renew does just that. Adding this into my routine took my hair health to another level.
IRT Conditioner: As mentioned above, your hair will be pretty knotty in the beginning. This conditioner makes that so much more manageable. You need a small amount and then you will be able to comb through like a champ. It also helps thicken your hair immensely! 
Rejuvenique Oil: Most "repairing" hair care products are filled with silicones that mask damage and repair nothing at all. This oil is different. It's the kind of product I've been looking for over the course of years. This is how your hair will transform. Weekly oil treatments. It feels like an expensive buy- but it will last you! Once you use it- you won't want to be without it again. Also- the bottle is so big it will last for over a year- easily. I use ONE DROP per day as a finisher. Your hair has NEVER felt better than after using this stuff. 
Damage Repair Bond-Fortifying Hair Leave-in Crème– the one styling product you NEED. This is because Monat strips hair of buildup so you NEED heat protection more than ever. In addition to this protecting from heat- this cream has bonding agents to stop hair from breaking and splitting- helping it to grow long and strong. You only need a pea-sized amount. One bottle will last you over six months. 
Truthfully- this is all you need, but I did also invest in the conditioning dry shampoo (best I've used- and it's not toxic like all the rest!) and also the texturizing spray for when I take blog pictures.
I wanted to write this post because I get a lot of questions about my hair and my favorite products quite often. I wanted to have a place to send people when I answer with a line they have never heard of. I don't plan on talking about it much, being as I'm not looking to convince anyone of anything. I'm just happy using these products and wanted to be honest when answering others' questions. 
​If you should decide you want to try it for yourself of course you are more than welcome to do that here. I'm always around to answer questions and to help guide you to the right products for you as best I can.
If you need help deciding on which products to get, you can either email me, or download my buying guide below! Once you're on the list I will send helpful tips, tricks and sales your way!
Monat Hair Updates
Why I Still Use Monat Three Years Later