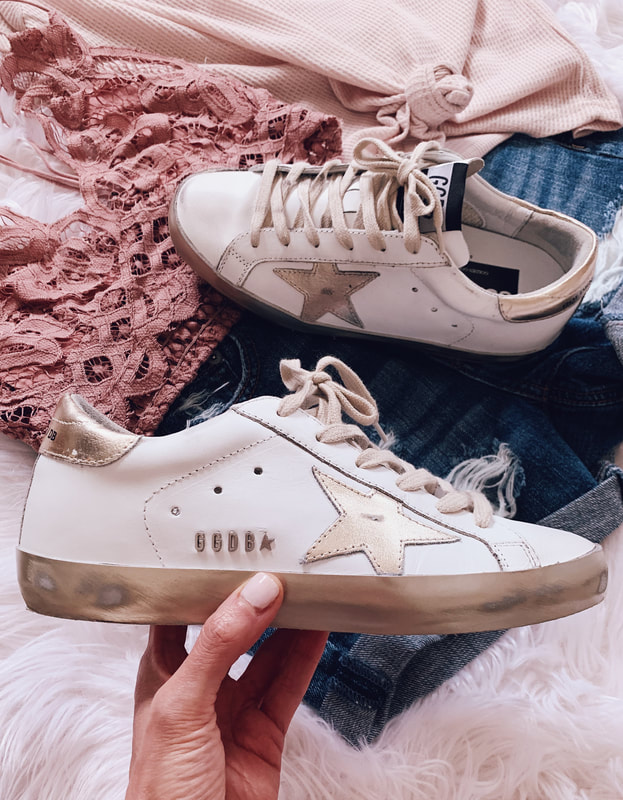 I had shared on Instagram Stories that I saved up to get a pair of Golden Goose sneakers. I have been drooling over them for months and have read SO MANY blog posts about the pros and cons.
I researched, scoured and finally found the perfect pair I wanted- one that was season-less and versatile- because at this price point- they had better be! I stalked them on the UPS site and watched them travel their way to my doorstep. Opened the box and put them on. My glass slippers… except…
They weren't comfy. WHAT?!
My heart sunk and I packed them back up to "think on it." Luckily I had a few people share some things with me- and when I took their advice- everything changed- and I may have just found my soulmate sneaker.
​Read on to see why I didn't return them! There are so many times I am thankful for the Sunset Squad community, but this is one I won't forget. You saved me from returning my new favorite sneakers. These are life-changing moments here.

I've been in love Golden Goose sneakers for so long and saved up so I could get a pair. If you're unfamiliar, here is what makes them so special:
They are Italian made and no two pair are the same
They have a platform inside that elongates legs, they are the stilettos of sneakers, if you will. (see what I did there?)
They come in tons of colors and styles
Once they sell out, they are gone
The investment price tag on these required me to save for a bit, but seeing how many girls wear them all over I felt they were worth saving for. I researched and knew the pair I wanted, and even when I saw other pairs go on sale, I didn't grab a pair. I wanted a color scheme I felt was season-less, that would match every piece of clothing I own. I want to be able to wear them all year long.

When the sneakers arrived and I put them on, I could not believe it. Stiff and completely uncomfortable. The heartbreak! I posted about my struggles and a few of you encouraged me and said they break in- but then some of you said you had tried them on in-store and had the same experience. I knew then that I felt an experiment coming on. I decided to try to break them in using the same process I use for any other shoe that needs it. To my delight, IT WORKED! I have worn these sneakers quite a few times since then, twice to school- and I can tell you they are BEYOND comfortable. I finally understand how people were walking around Italy in these beauties.
HOW TO BREAK IN YOUR GOLDEN GOOSE SNEAKERS
So on the off-chance you experience a heartbreak over Golden Goose sneakers- I wanted to share some tips to break them in.
Run your blow dry inside them for a few seconds. Warm them up.
Put on thicker socks and walk around a bit while they are still warm.
Then switch to either bare feet or cutoff socks, and walk around some more. By this time the shoe actually softens and begins to mold to you foot! I didn't think it was going to happen but then it DID!
Cry happy tears!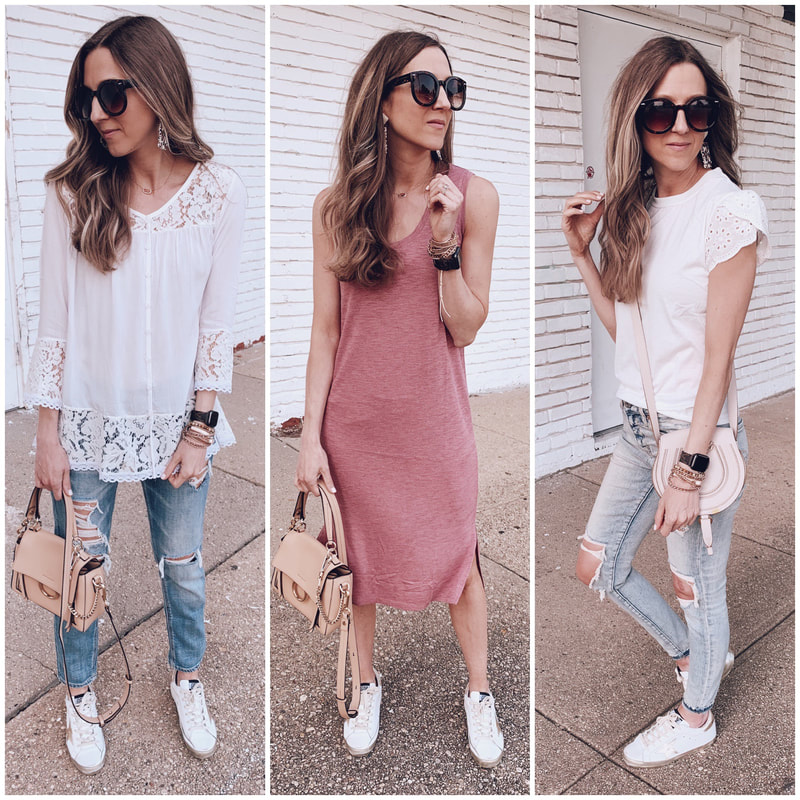 Everyone is right when they say these sneakers go with everything. Now I WILL be watching for insane sales to grab a second pair… SOMEDAY. Until then I've rounded up some favorites, but I've also found some AMAZING dupes if these will never be in the budget! 
SIZING INFO: I am a size 6 in shoes so I get a size 36 in Golden Goose and wear a small ped sock. (I love these from Amazon!) I have a narrow foot and they fit perfectly. Golden Goose sneakers run wide so keep that in mind if you are in between sizes! I always tie mine!
MY TOP FIVE MOST-VERSATILE GOLDEN GOOSE PICKS

GOLDEN GOOSE DUPES AT VARIOUS PRICE POINTS

The Best Golden Goose Sneakers on Sale!