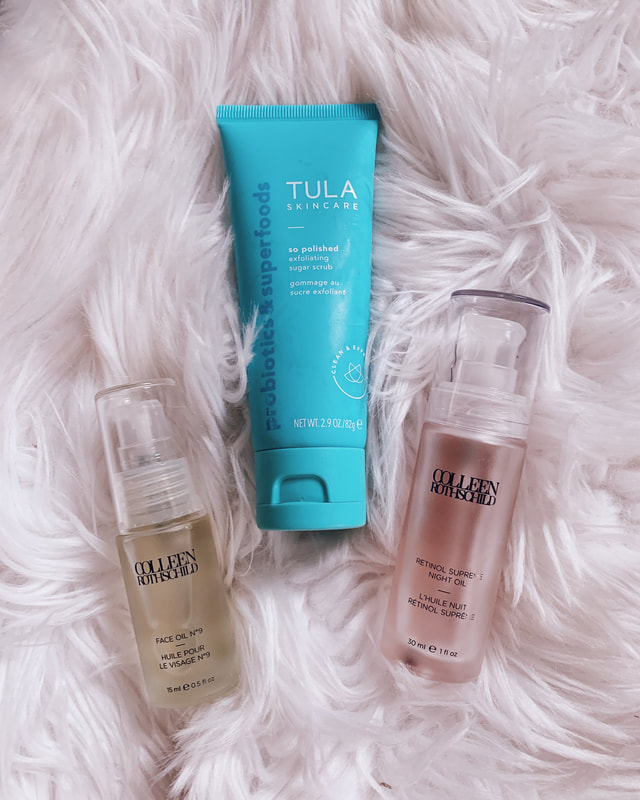 TULA 20% OFF CODE: SUNSETS20
COLLEEN ROTHSCHILD 20% OFF CODE: SUNSETS20
My skin is so fickle. It breaks out easily and I don't often see the same results from products that other people do. I love finding product lines that work for me- and it's a bonus when they work well TOGETHER. I'm rounding up some favorite combos from two of my favorite skincare lines – Tula and Colleen Rothschild!
Tula is a line I found on QVC and fell in love with ages ago and Colleen Rothschild is a newer line I've been loving for the last year or two. Both are cleaner products and I love that they don't break me out or irritate my skin. Both have products that I swear by and I love pairing them together to get the maximum benefit.
PAIRING 1 | Colleen Rothschild Cleansing Balm & Tula Face Scrub
These two were made for each other! I used the Colleen Rothschild Cleansing Balm ONE TIME and haven't looked back since. It leaves skin soft and glowing, while taking off all of my makeup at once! My skin does get dry though, so I love using this super gentle but effective Tula Exfoliating Scrub with it! Some days I use the scrub first and other days I use the cleansing balm first and either way, the pairing is amazing.

PAIRING 2 | Colleen Rothschild Complete Eye Cream & Tula Eye Bright Stick
You know that I struggle with finding eye products that don't burn my skin. Plus my eyes tend to get dry around the change of seasons and in especially with my allergies, so Colleen Rothschild's Complete Eye Cream is a game changer for me. Super gentle but hydrates like no other- and it NEVER burns! After that I love adding Tula's Eye Bright Stick and it lights my eyes right up! (even if I haven't slept!)

PAIRING 3 | Colleen Rothschild Clarifying Charcoal Detox Mask & Tula Hydrating Day and Night Cream
This Colleen Rothschild Charcoal Detox mask took me by surprise when I first used it! Shrunk my pores and felt so refreshing on my face! I can't believe I waited so long to try it- it's become a staple in my routine. I use it at least once per week but some weeks like to do it twice. After a detox mask like this I love following with a skin-loving moisturizer that is gentle but packs a punch- and that's the tried-and-true Tula Hydrating Day and Night cream. It's the perfect duo!