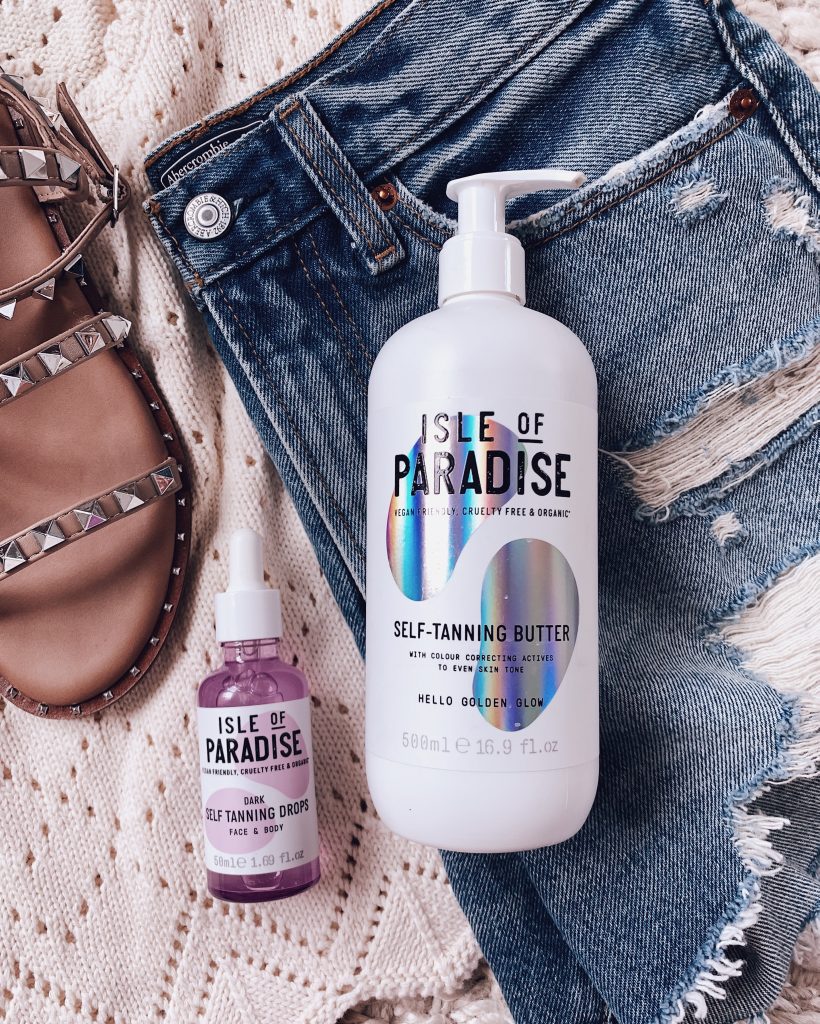 There's nothing like the new beginnings of Spring in New York. The only problem here is that our new beginnings start MONTHS after everyone else- we are still pale and white and wishing for sunshine while the rest of the world seems to be sunny and golden. Enter sunless tanning. This was a game-changer for me years ago- and I haven't looked back since. I've been perfecting my tanning routine and trying a few new products- so I wanted to round them up for you all in one post!
I wanted to give a sunless tanner review of all of my favorite tanning products, based on the ones that are best for fair skin, and that don't cause any breakouts. I have super sensitive skin so it's often trial and error until I find things I love. Once I do though, I'm hooked! Read on for my favorites products and sunless tanning how-to's, and check out my guide for the products that will make your sunless tan last even longer.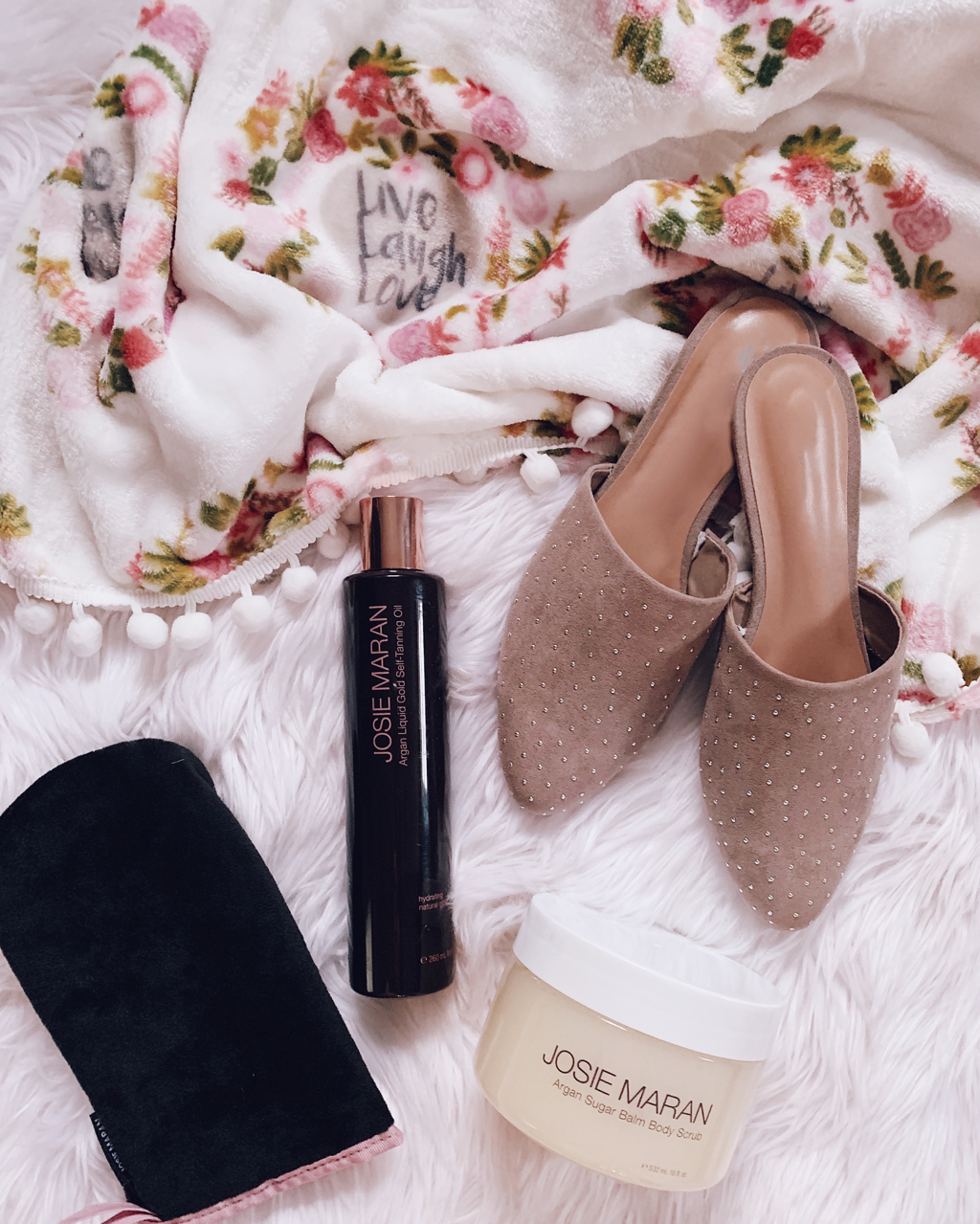 The Josie Maran Sunless Tanning Oil was the answer to my prayers. I had tried a few others prior and they all required me to rinse them off. I just didn't have time for that- so this one was game changer. It doesn't smell and leaves skin soft- but not sticky or greasy. A reader once wrote to me and said "This is the sunless tanner for those of us who are sunless tanner impaired!" It's hard to mess this one up and that makes me love it more.
HOW TO APPLY JOSIE MARAN SUNLESS TANNING OIL
Use the mitt to apply the oil to each body part. Rub in generously. It is brown in color so you can easily see where you've applied the oil. Be sure to rub extra around knees, backs of ankles, tops of feet and then the fold of your arm near your elbows. I don't use this on my face regularly- but I have and it looks amazing! I only use what's "left over" on the mitt when I'm completely finished with body application and apply the left overs on my face.
HOW OFTEN TO USE THE TANNING OIL
You can truly use this oil every day if you wanted to. It's subtle and moisturizing, so it doesn't cause the problems most others will cause in that arena. That said, I LOVE my Josie Maran Body Butter and always like to moisturize my skin, so every other day would also be great. Most recently though, I've found a way to create a routine with a few other products that seem to work great together!
THE REASONS I LOVE JOSIE MARAN TANNING OIL
In summary, the reasons I love Josie Maran's tanning oil are the lack of chemical smell it has, the natural, blendable color that's hard to mess up, and the lack of greasy and sticky residue after it's applied. I always apply it at night and haven't had issues with it coming off on clothes or sheets. It's great for any skin tone, but works amazingly well for us fair-skinned friends! It will forever be my number one pick!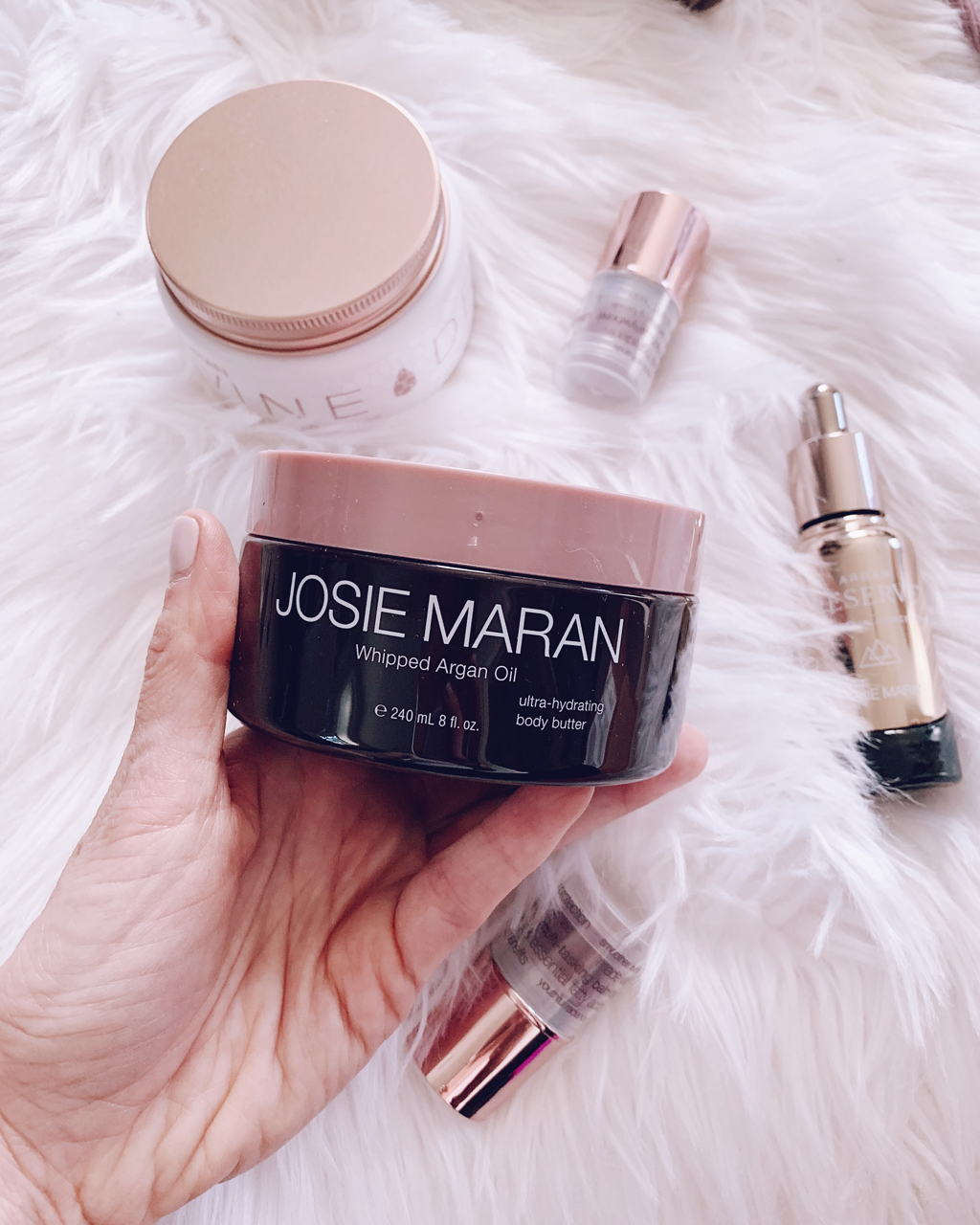 Like I said before, if I'm sunless tanning in dryer winter months, I do like to have some days where I give my skin a bit more moisture than the Josie tanning oil provides. That said I also like to refresh my tan some days without fully reapplying the oil. I recently stumbled upon the new obsession with sunless tanning drops. These are gradual tanners and they have taken the world by storm. I'm comparing two of the most popular tanning drops below!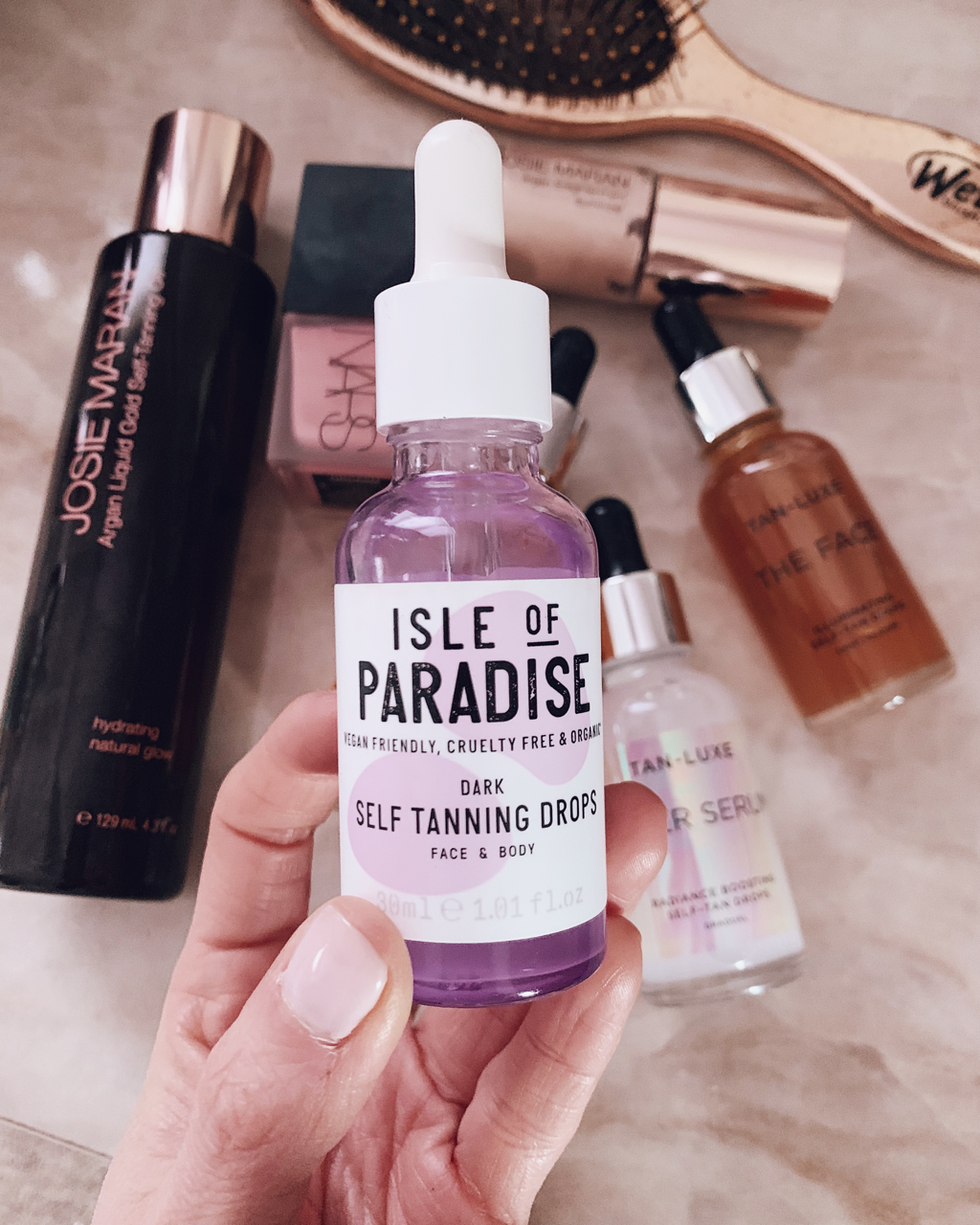 HOW TO APPLY ISLE OF PARADISE SELF-TANNING DROPS
These Isle of Paradise tanning drops are easy to use in the sense that you add them to your daily moisturizer. I am a body butter addict and my skin doesn't feel right without it- so I love that I can turn my body butter into a sunless tanning product with these drops.
It took quite a few days of using them in a row for me to get the color I wanted, but once I did, I was good. Even the darkest shade required more than one application for me, but they definitely are a great boost if you don't need a deep tan.
The Isle of Paradise tanning drops are great for Spring and transition weather when you just want to add some color to your body before you are in sundresses and shorts. Put your moisturizer in your hand and add a few drops in, mix together and apply.
HOW OFTEN TO APPLY ISLE OF PARADISE DROPS
You can use the Isle of Paradise drops as often as needed, but if using every day, you may have some streaks. For me, I use them on my "off days." When I'm not using my tanning oil, I add these to my moisturizer to keep the glow I already have.
So:
One day of Josie oil, then a day of body butter only, then a day of the drops with body butter, and so on. After around a week I apply tanning oil again.
THE REASONS THESE DROPS ARE MY FAVORITE
The Isle of Paradise drops were the first sunless tanning drops I used. They come in three shades and that is definitely my favorite thing about them. I like that you can choose how much color you'd want and truly control the shade you'll wind up with.
I also like that it's a cleaner product and cruelty-free. They have virtually no scent which I also like a lot and they did not change the consistency of my moisturizer. There was no residue at all.
My only complaint is that they definitely can get streaky and it's super hard to tell where you've put them- and to stay consistent when adding them to moisturizer. (this is the case with all gradual tanning drops though) I do love them with my nightly moisturizer for my face and wake up with a great glow. They are definitely more cost-effective than the Tan-Luxe Drops without some of the fallout. Read on for that.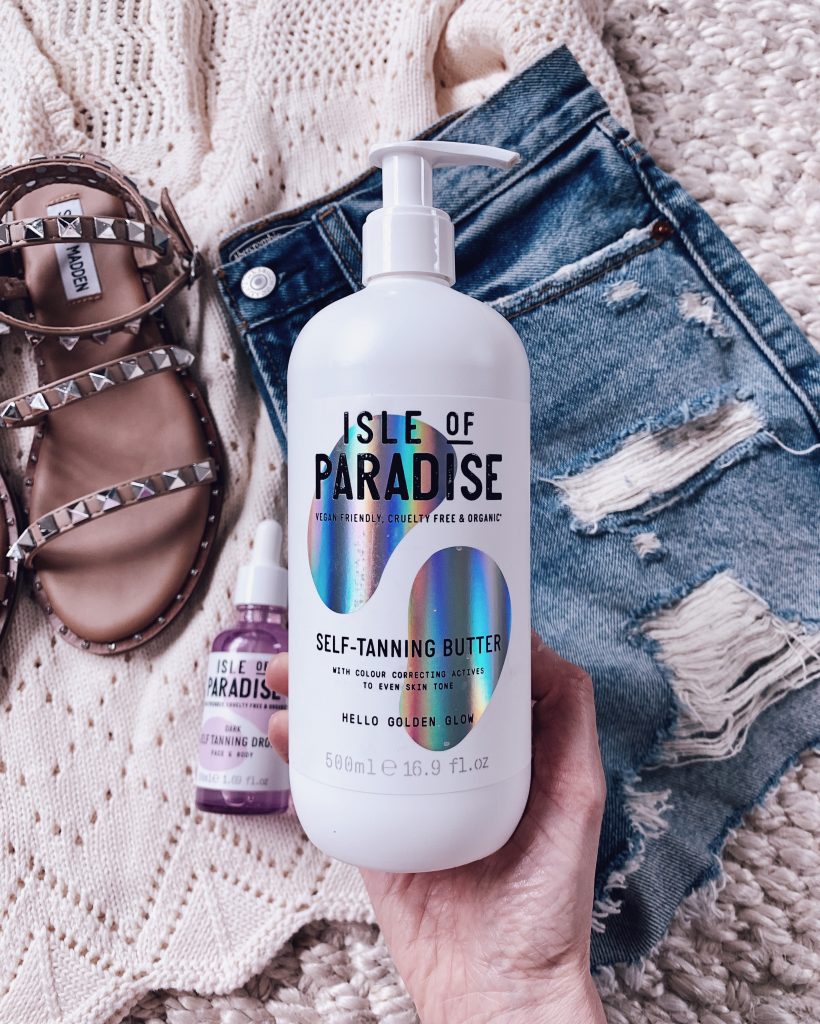 I also recently tried Isle of Paradise Tanning Body Butter and I am SO impressed. It is not tinted when you apply it so it doesn't rub off on clothes- but it creates a nice warm glow and is so moisturizing! It's not nearly as intense as the drops and I like it for the less warm months before a full on tan feels like it fits.
I did use a mitt and recommend using one to apply- because it will leave a tint to your palms. Right now it's part of an amazing duo with the sunless tanning drops I'm over the moon about! My goal for summer is to mix these two together to see how the color develops!
Tan-Luxe Self Lotion & Self Tan Drops
I find that these are the sunless tanning drops EVERYONE talks about more than any other. I had to give them a try on my own.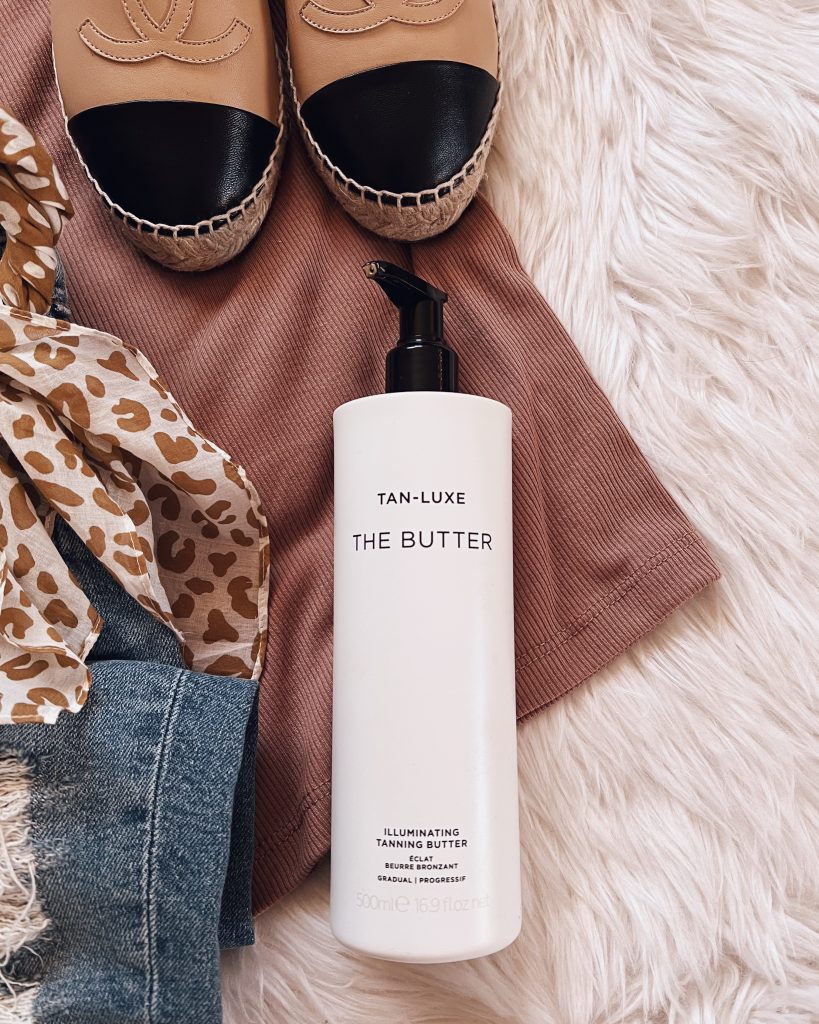 Most recently, I had some trouble with the Isle of Paradise sunless tanning lotion. I found it more streaky than I remember- so I wanted to try something new. This Tan Luxe Tanning Butter is always on sale so I snagged it while it was. This color is lovely. It's very subtle and has some shimmer but nothing over the top. I like how it feels on my skin and that I can layer it for a darker tan.
HOW TO APPLY THE TAN-LUXE SELF TAN DROPS
You apply these with a mitt, just as previously mentioned. Add the Tan-Luxe Body Drops to your moisturizer and go. That said- they WILL change the consistency and scent of your cream- so keep that in mind.
Unlike the Isle of Paradise drops, these have a scent (albeit one that dissipates) and it did make my lotion much more sticky. I had to use a lot less moisturizer than normal- but that said- it could be because the drops themselves are pretty hydrating. This will come down to your skin type and your moisture needs! I imagine the older your skin- the more moisture you'll need.
For the face, you can add a drop or two of the Tan-Luxe Face Drops to any serum or cream to get an amazing glow. It actually tans your face so much I pulled back on how often I use them! I found that I like the way these looked when applied AT NIGHT with my creams. I did a light wash of my face in the morning and the glow was perfect. When I used them in the morning- by day's end I looked a bit parched.
HOW OFTEN TO APPLY TAN-LUXE DROPS
Like the other tanning drops, this took me a few days to achieve the color I wanted. After that though- I definitely had a glow. I did love the color overall- but too much use left me a bit orange. I like the Tan-Luxe drops as a maintenance to my tanning oil- just for a little boost. When I used the face drops two days in a row though- holy tan! It was a bit much for my fair skin- but it might be just what you are looking for.
WHY I LOVE THE TAN-LUXE DROPS TOO
These drops are much more hydrating than the Isle of Paradise and I do love the color they give. Overall the Face Drops are the winners for me because they are SO effective and made especially for use on the face. The color payoff is awesome and I LOVE using them before bed.
Sunless Tanner for the Face
I don't use sunless tanner for my face but with new bronzing options available, there's great options just the same.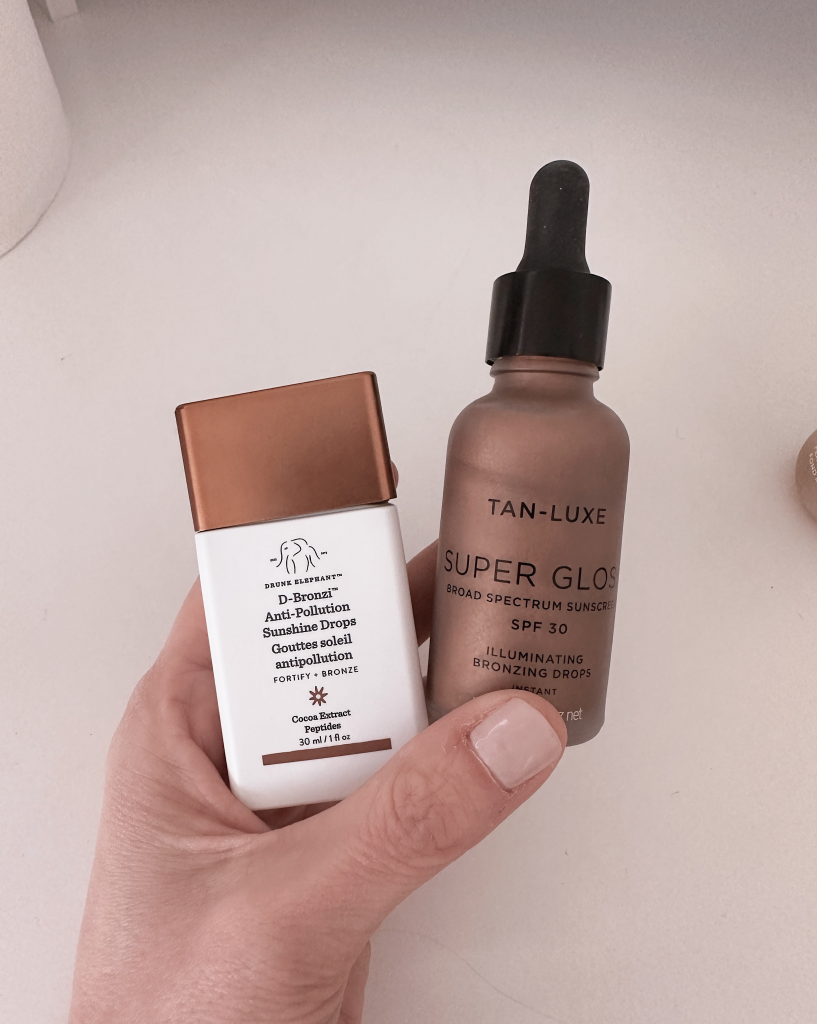 Drunk Elephant Bronzing Drops are all the rage and they are definitely a nice product. For us super fair gals though, they can look a bit orange (in my opinion.) Enter Tan Luxe Super Gloss Bronzing Drops– my dream bronzer- this color is SO stunning and it's super kind to my face!
I love the look of being tan so this routine has become my go-to. Hope you found it helpful! Leave any additional questions you may have in the comments!