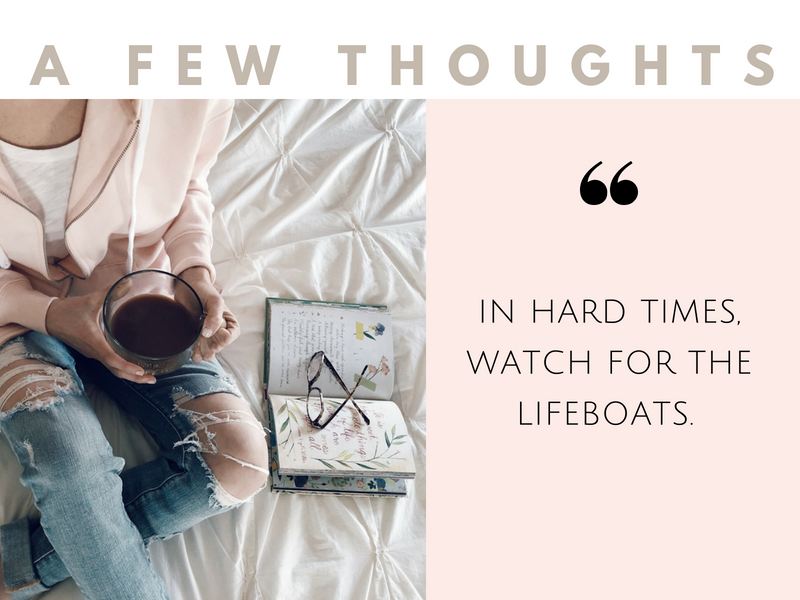 I know I mentioned that I've been handling some stressful situations lately. I have to say that I've been handling it all better than I have in the past. I know we've talked here about strategies and ways to help with anxiety and stress- but as I'm in the thick of it – I started thinking.
A friend of mine recently said "strategies for stress are good until the sh*t hits the fan." I don't ever want you to think that I write about how to cope as though it's easy. I know otherwise. Being in the storm makes coping that much harder- but faith is only faith when times are hard. 
That being said- there is one thing I have continued to learn every time I'm put in a tough situation where I'm not feeling my strongest. There are ALWAYS lifeboats. Whether it be God, the universe or just damn good luck- people, moments and things are always placed before us when we need it most.
As I traveled through my storm- there was one day at school where I looked up and all of my friends just happened to be in one place at the time. Some I hadn't seen in weeks, some in years- and in an instance they were there with hugs and smiles. I've had times where specific doctors are placed in my path that made me feel as though I had known them forever. I've had people I barely know offer stories, encouragement and strength. I can remember a story where my aunt once had a man walk up to her and tell her everything was going to be alright- right after my grandpa died.
As I looked back on every single trying time I've had- I can see now that what I've needed has been provided to me to help me through. Both inside myself and outside in the world. We just have to be open to see it- and open to receive it.
It is my deepest hope that if you're in need- maybe my newsletters or my stories are one of those things could do that for you. It is my hope that as I share my stories they only mean that you feel less alone. Because alone you are NOT.
Troubles are never in isolation- and as you manage them- have faith and know that you WILL be given what you need. As my beloved Hagrid says:
"What's comin' will come, an' we'll meet it when it does."