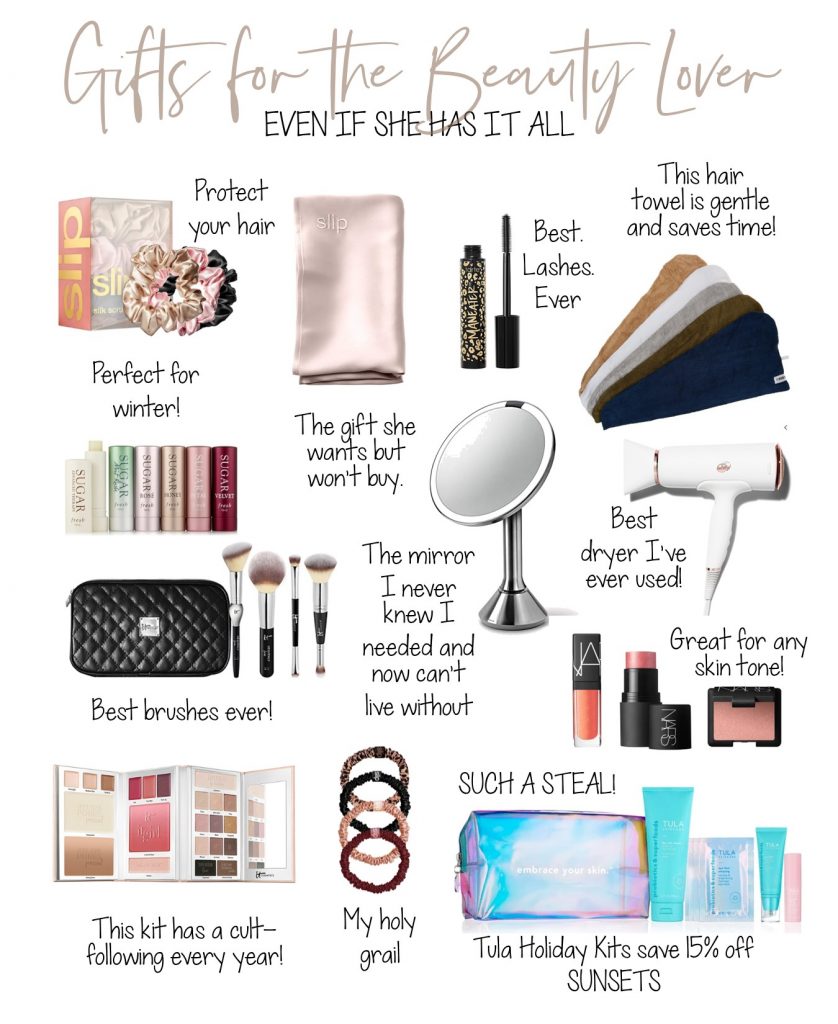 Beauty lovers are the best to buy for- so many options- BUT sometimes it feels like they have them all. I rounded up my holy grail beauty products that are tried and true- along with the favorites the reader favorites you all sent over to me as well!
Holiday Hair Gift Ideas
Slip Silk Scrunchies
These are on my list this year! They are a far cry from the $1 scrunchies of the 80's past- and they help to stop breakage. My hair notoriously breaks right at the scrunchie line- and these should help to make that a thing of the past! Also come in an adorable ornament here!

Turbi Twist Hair Towels
Another gift to your tresses- they are something I never knew I needed- and now I can't live without. I even travel with one! These hair towels cut down on drying time significantly- which we could all stand to use! Give them as multiple gifts (makes a great stocking stuffer!) or give the full pack!

Cura Hairdryer**- this was a reader favorite!
I use this hair dryer as well and it is worth every penny. It doesn't leave my hair feeling dry- yet dries it quickly. I am SO PICKY with hair dryers and I've tried them all- this one keeps the integrity of my hair while getting the job done.

Sedu Curling Iron – FINALLY found this for under $100 here!
The most underrated curling irons out there. They leave my hair SO SHINY! This is a brand I've used for years and the design is flawless- having no parts that tug or yank on my hair. Cannot live without it!

Wet Brush – $12
Everyone needs a wet brush. And if she already has one- get a new one. The one thing I find with these brushes is they do wear out- so I replace mine often. I just got this one this year and I love it even more- makes drying go so quickly!

Slip Silk Pillowcase
This is kinder to your hair than other pillowcases- and it's one of those gifts we never want to buy for ourselves. Makes it the perfect gift!

Makeup Kits That Make Perfect Gifts
I've yet to know why, but makeup kits are so fun to receive. It allows us to try knew things we may not have gotten to try before, and as the gift-giver- the values are often amazing! When I surveyed you on your favorite beauty gifts- these were ALMOST ALL of the answers. I've got the best values I've found so far this season along with your reader favorites too!
​ ​Sephora's Lashstash ** this was a reader favorite! – under $50!
I don't know too many gals who don't love mascara. I LOVE trying new ones and this kit comes with some of the tried and true's. This was reported as a Sunset Squad favorite too!
It Cosmetics Make Up Brush Set
This brand of brushes is known as being THE BEST! This set is an AMAZING value (under $60 and one brush is usually $30) and one thing that EVERY beauty-lover needs is new brushes. We never want to buy them- but we LOVE getting them as a gift!
Too Faced Makeup Kit
This foundation was awesome but the real winner is the PALETTE! Prettiest and most user-friendly I've see- subtle and not too much. Plus it comes with my holy grail mascara! Great for tweens!
It Cosmetics It Girl Box Set – under $50
​This kit is so good! I've seen it sell out every year because of what it comes with. Nine eye shadows, three lip colors, bronzer, primers and pressed powder too! It's the gift that keeps on giving and the packaging is second to none.
Sugar Fresh Lip Kit ** this was a reader favorite!
​Far and Wide my favorite lip glosses- I have one with me at all times. Helps me all winter with my chapped lips and the colors are universally flattering. I've priced these out and this kit is the best value by far.

Skincare
​Tula Holiday Kit ** this was a reader's favorite!
(use code SUNSETS20 for 20% off)
The value in these kits is like no other and I can't believe it comes with full sized products! It's great for a Tula lover or someone new to the brand!
Colleen Rothschild Cleansing Balm – 20% off code is SUNSETS20
I tried so many cleansing balms and this one WINS! I use this religiously and I love how soft it leaves my skin- I glow! Takes off ALL of my makeup in literally one step and could not be easier to use. Great for tweens!
L'Occitane Almond Shower Oil Trio
learned about this body wash on QVC (of course) and I watched the kit sell out in minutes on one of Shawn Killinger's shows. Needless to say I had to see what all the fuss was about and now I get it. This body wash leaves you so soft and hydrated… it helps so much on days I'm rushing and don't remember to put lotion on after I shower. I definitely bought this value kit while I still could!
Elemis Pro-Collagen Marine Cream Kit
I nominated this cream for QVC Beauty Choice award and it won! It's THAT good- makes a great gift for yourself or a friend! The results speak for themselves. This kit is on my list!
Josie Maran Body Butter
I adore this body butter- nothing does a better job moisturizing my skin. I love it and the scents are not overpowering at all. I stock up on this every year and love giving it to friends and family. You can break this up into multiple gifts!
Other Target Favorites
There are so many great products out there and I've tried a bunch! Here's a few of my drugstore favs! My eyes are super sensitive and this cleanser is all I use along with these makeup wipes. Both are gentle enough but get the job done! I've heard amazing things about these makeup brushes if you're looking for a budget-friendly option, and this mascara is my holy grail since i'm a teenager- I've never found better. I also use the primer here!

MORE READER FAVORITES!!
Everything from the GloPro to a sonic toothbrush… these were the reader favorites! Eye patches to de-puff eyes, basically any NAKED palette and nice hand creams to carry around in our bags!

2019 Holiday Gift Guides
Cozy Gift Guide for Introverts or Homebodies
Men's Gift Guide – Whether He's Outdoorsy, Fashionable, or A Classic Everyday Guy
What to Teachers ACTUALLY Want to Receive for the Holidays