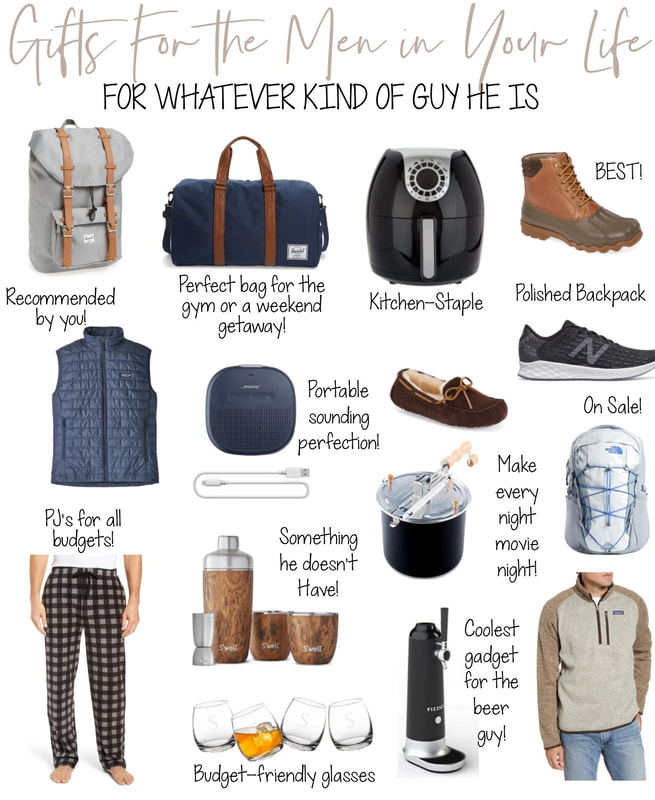 It's always tough to shop for a guy- and on top of it- dudes are EXPENSIVE. I've rounded up some of the best ideas YOU sent me along with a few tried and trues of my own. Whenever possible I included multiple price points… but apparently, there are no budget-friendly bloomers for dudes. Read on for gift ideas for whatever kind of guy he is!

FOR THE BIG NATURE GUY

FOR THE BIG SPORTS GUY
NFL Hoodie
I got Mike one of these years ago and he loves it. This year he wanted to get one for his dad and his brother too! It's well-made and always a conversation starter. Runs TTS.
Pair this with game tickets or a something from The Big Booze Guy section!
Tickets to a Game
So many of you wrote in about experiences as gifts and taking in a game would be a great options. I've done this for Mike twice- once with football and once with a Yankee game. I planned our trip and dinner too and then off to the game we went!
Equipment Upgrades
Get him a better bat, golf clubs, cleats or even a new smartwatch- the new Apple Watch is AWESOME. (Mike has it and loves it)
Killer Sneakers & Workout Clothes
Guys and sneakers. I've yet to know a guy who doesn't always need one more pair. Workout clothes is another safe bet- even if they don't go to the gym!
Pair it with a great duffel or gym bag!

FOR THE BIG MEDIA GUY
Bose Soundbar
This was recommended by you and I could see why! A great way to update your entertainment at home!
Pair this with Apple TV, Roku or an Amazon Fire Stick!
Bose Bluetooth Speaker
We have this speaker and the sound quality is AMAZING! I love how small it is yet the sound is fantastic.
Beats Headphones
Mike brings these to the gym (I don't get it) and he loves them. They are great for traveling too! If they are too big and bulky- try these earbuds instead! (newest, more expensive pair here)
Pair them with a subscription to everything from Audible for audiobooks to Amazon Music for unlimited streaming. You can also get a subscription to Hulu or whatever channels he loves!
Popcorn Maker
Squad-recommended! Even if you can't have a media room, you can turn your place into a fun night out. This popcorn maker would be super fun for movie nights in.
Pair this with a subscription to Netflix or fun box sets of his favorite DVDs.
Movie Tickets
If you're guy is more of a GO TO the movies guy- get him Moviepass and he can see as many as he likes for $10 a month!

FOR THE BIG FOOD AND BOOZE GUY

FOR THE EVERYDAY GUY

SENTIMENTAL GIFTS
Frame the license plate of his first car
Photo memory book like Chatbooks
Monogrammed cufflinks with children's initials or a photo
Digital Picture frame with family pictures
2019 Holiday Gift Guides
Cozy Gift Guide for Introverts or Homebodies
What to Teachers ACTUALLY Want to Receive for the Holidays
Holiday Shops (Ideas for Everyone)