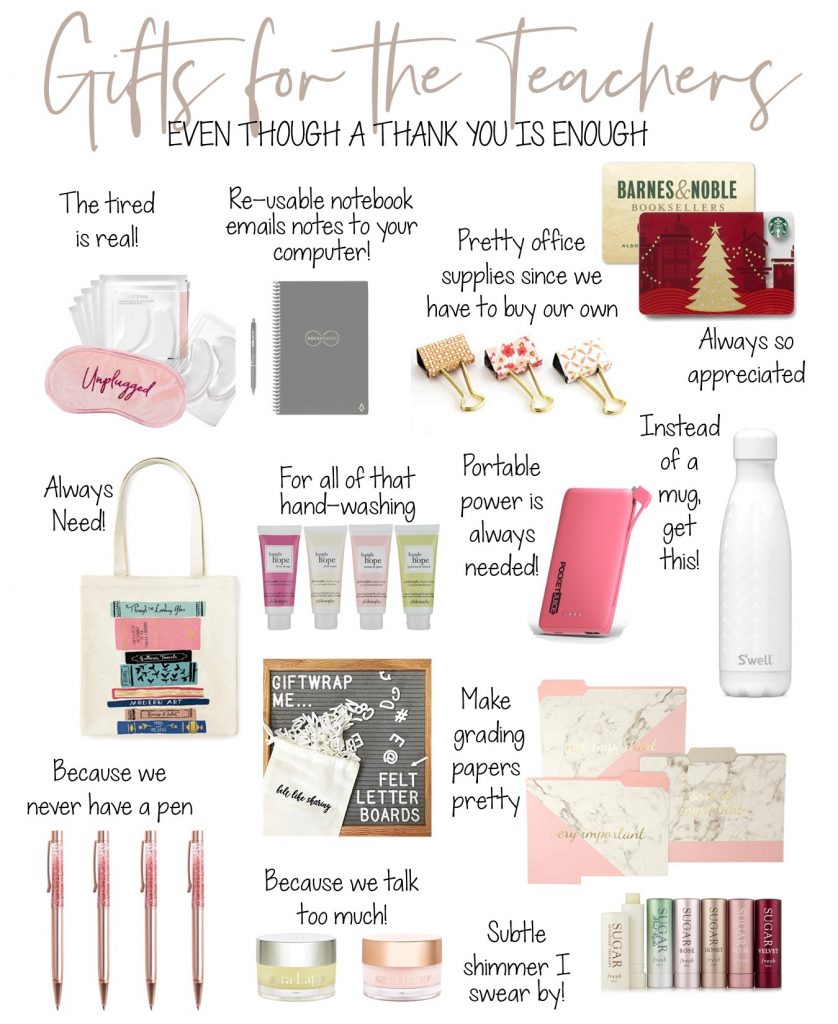 I got quite a few messages about the best gifts for teachers. I'm happy to take requests and to give you what you want in your gift guides and blog picks to make your holiday shopping easier. I do know though that I can speak for every teacher when I say that a thank you really is enough. I cherish those letters parents (and kids!) take the time to write to me. I have a folder in my filing cabinet with years worth of papers collected so I can read them on my bad days. That said, I thought I'd round up some awesome teacher gifts with my usual flare for humor and sarcastic wit.
I hope these ideas will inspire you as you start to finish up your holiday shopping! I've gotten a lot of these items as gifts over the years and they have been favorites.
CANVAS BOOK ​TOTE
I am ALWAYS looking for a book tote or something to throw files and papers in on the run- this one would be so fun! ​There are SO many great choices for canvas totes and even pouches. We can never have too many pouches!

PORTABLE CHARGER
I can't count the days I've seen a teacher wandering the halls in a panic when her cell phone is about to die. Plugs are SO HARD to come by in classrooms so even if you have a charger, sometimes it doesn't help things. Having portable power is always a must- and we can leave it in our desk or bag for when we need it! ​Believe it or not, office supplies (especially pretty ones) are ALWAYS appreciated. We almost always need to buy these things ourselves so it is an amazing gift to give! You can attach any one thing to a giftcard or make a small basket with the office supply theme. Or pick a canvas tote (above) and add a few items to it!
ROCKETBOOK REUSABLE NOTEBOOK
This notebook is one I found back on Kickstarter ages ago. Since that time I've gotten them as gifts and they are SO COOL! There are a few types, but they are reusable notebooks that sync with your phone. When you take a picture of your notes, they are automatically sent wherever you program them to go. Email, Google Drive or even Dropbox. So easy! Another fun feature is some of them are reusable! After you're done sending your notes into the Interweb, you can microwave the notebook and it turns blank again. It's like Harry Potter come to life! Some of them do require a special pen so this set has those too!
BINDER CLIPS
It may sound silly, but we have to buy almost all of our supplies and we never, ever want to spend the money on things like that. Getting some nice supplies is such a useful and appreciated gift. ​
​​FILE FOLDERS
Make filling a pretty experience with these file folders! We often have to hand in papers within folders so it makes it so much easier when we can spot ours from a mile away!
LETTERBOARD
A fun addition to a classroom or otherwise, the kids have a blast with this letterboard! (high school need not apply- haha) There are tons of colors to choose from! (great gift for tweens too!)
FANCY PENS WE WON'T LOSE
I'm not quite sure how, but we never have a pen. It never fails – plus if we do- we are lending them out to everyone else who doesn't have a pen. These are SO pretty and we will always know which pen is ours!

Everyone needs a little pampering and these choices go a long way! These are some of the most versatile beauty gifts you can find!
EYE MASK SET
Nothing like relaxation in a bundle and this eye mask set fits the bill. No reason NOT to use it, it's like giving the gift of pampering for everyone. Love the cute sleep mask too!
HAND LOTION
As you can imagine, we wash our hands ALL day long. Having pretty lotions nearby help with saving our hands from turning right to sandpaper! Philosophy makes one of my favorite hand lotions and this four pack is great to split up if you have multiple teachers to gift to. You can always attach a small giftcard if you're wanting to do more!
SARA HAPP LIP SET
Sarah Happ does lips better than anyone. I use this scrub religiously in the winter and the lip slip is amazing for overnight too! We talk SO MUCH so this is a great way to keep our lips from getting chapped.
SUGAR FRESH LIP SET
The most versatile lip color out there! I always feel silly if I'm wearing too much make up at work- and these help me look polished without being overdone.
SWELL BOTTLE
Nothing says beauty like staying hydrated! We sure do get a lot of mugs, so a water bottle like this would be a great gift that keeps on giving! It can balance out all of the coffee we drink! You'll never see a prettier version and it's something we will always use!

Again thank you SO MUCH for thinking of us teachers! We are so appreciative and a "thank you" will always be enough! xo
2020 Holiday Gift Guides
Cozy Gift Guide for Introverts or Homebodies
Men's Gift Guide – Whether He's Outdoorsy, Fashionable, or A Classic Everyday Guy
Holiday Shops (Ideas for Everyone)