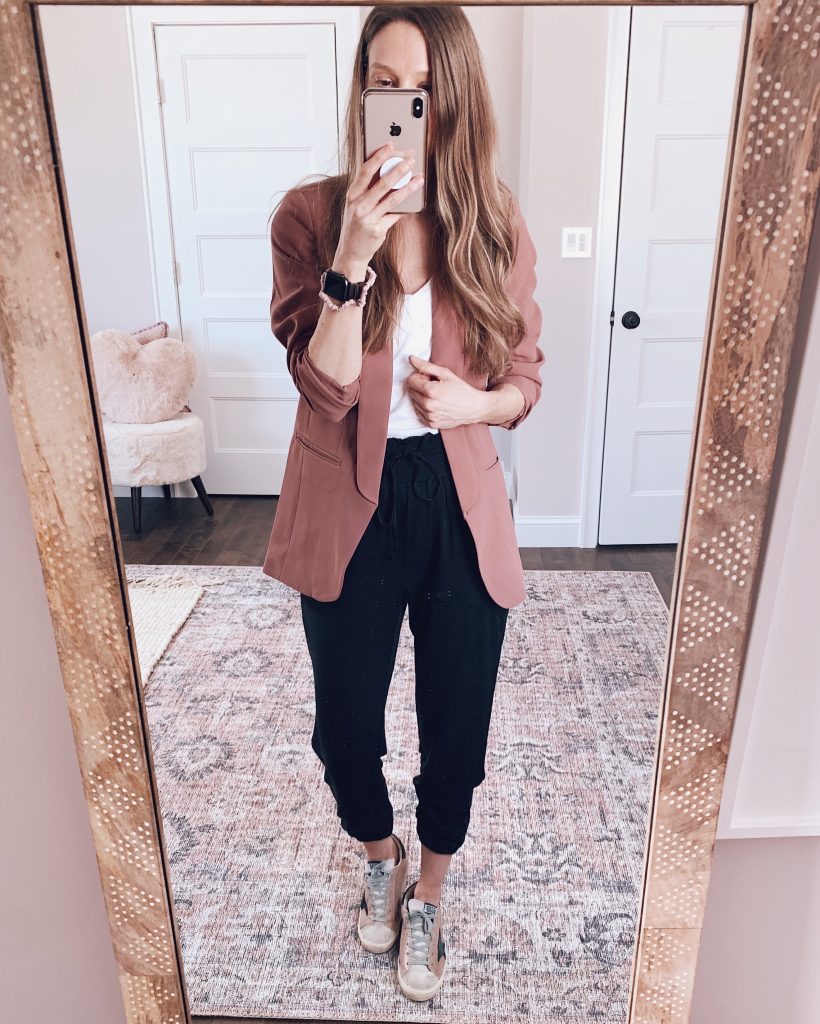 We all have our vices. Coffee. Expensive bags. Facials. Over the last few years I've found one of my own: Golden Goose sneakers. I realize this isn't exactly in the self-care category (maybe it is?) but since getting a pair of these they have become, hands down, my most-worn work shoe. So much so, that I am convinced every teacher needs to save their pennies to buy themselves a pair… and I'll tell you why.
I bought my first pair of Golden Goose sneakers after saving up for them for a while. I purposely grabbed a pair that I knew I could wear year-round. Gold stars really do span the seasons… and wore them I did. As time passed I found myself adding them to every outfit I threw together- dresses, joggers, jeans- you name it.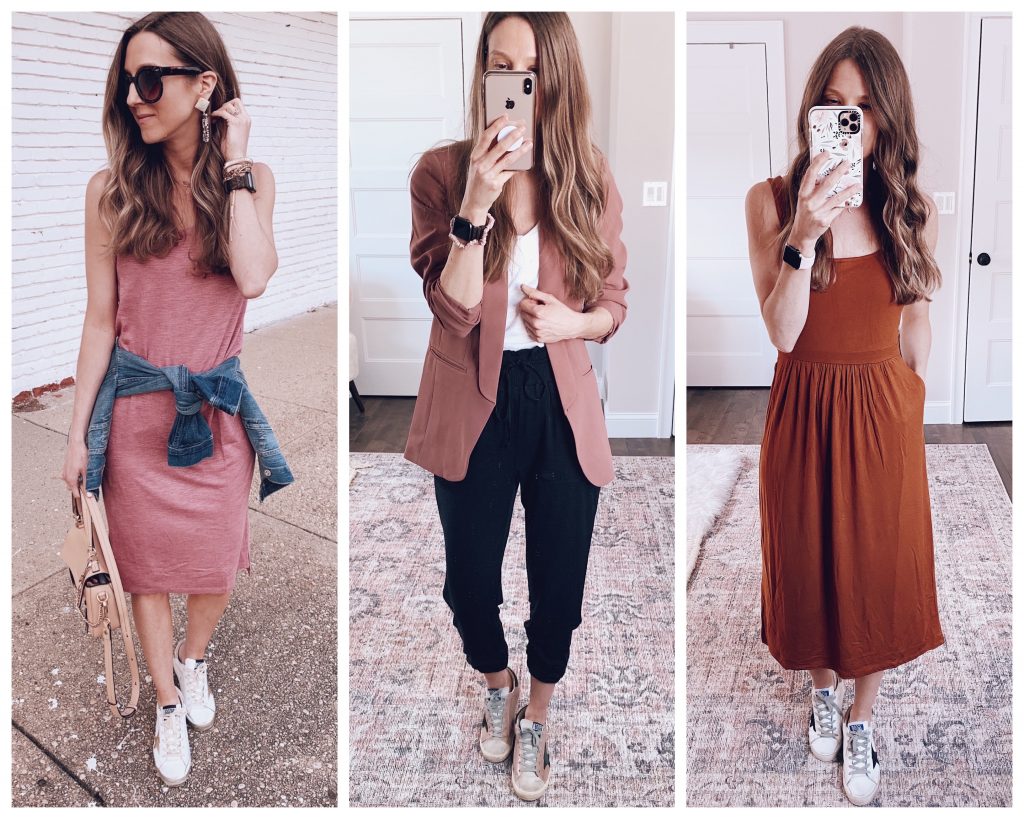 The more I saw how versatile the sneakers were- the more I wore them- and the crazy part was- they didn't look sloppy when I wore them to work. Is it like some unicorn factor- magic? Maybe.
Teaching elementary school is hard. On any given day we are climbing, sitting on the floor, bending, reaching- it should be an Olympic sport- so comfy shoes are a must. NON-SLIPPERY shoes are a must. Golden Goose sneakers check off every box I've got to make school more enjoyable.
In addition to them being non-slip comfy and versatile, there is one more reason I think these "star sneakers" as my fifth graders called them, should be in regular elementary school rotation: they have a distressed look. Golden Goose sneakers are known for their one of a kind distressing- no two pairs are the same.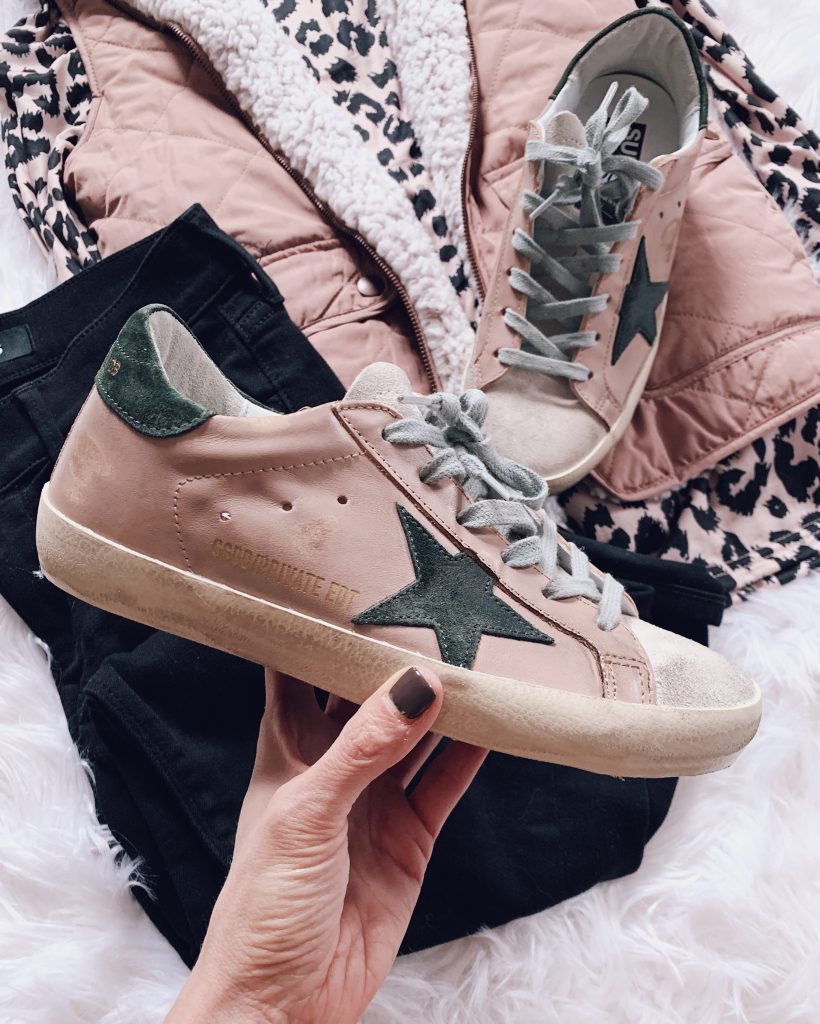 They come somewhat scuffed up and tattered- all part of the charm. While I hear my dad asking me why I insist on buying jeans with holes- I know better. In a day- I could have in excess of ten people step on my foot, trip over a chair, and wind up on bus duty in the rain. These shoes will withstand it all! I actually have a no sandals policy for myself for these reasons alone.
I hear you- they are pricey- could they be worth the cost? YES. The amount of times you'll wear them will make it so- there's no outfit they can't handle. So if you start to save for a pair- make them versatile and make them match the general colors of your work wardrobe- and you'll never look back. Here are a few examples of work-friendly options.
Best Golden Goose Sneakers for Teachers and Casual Work Wear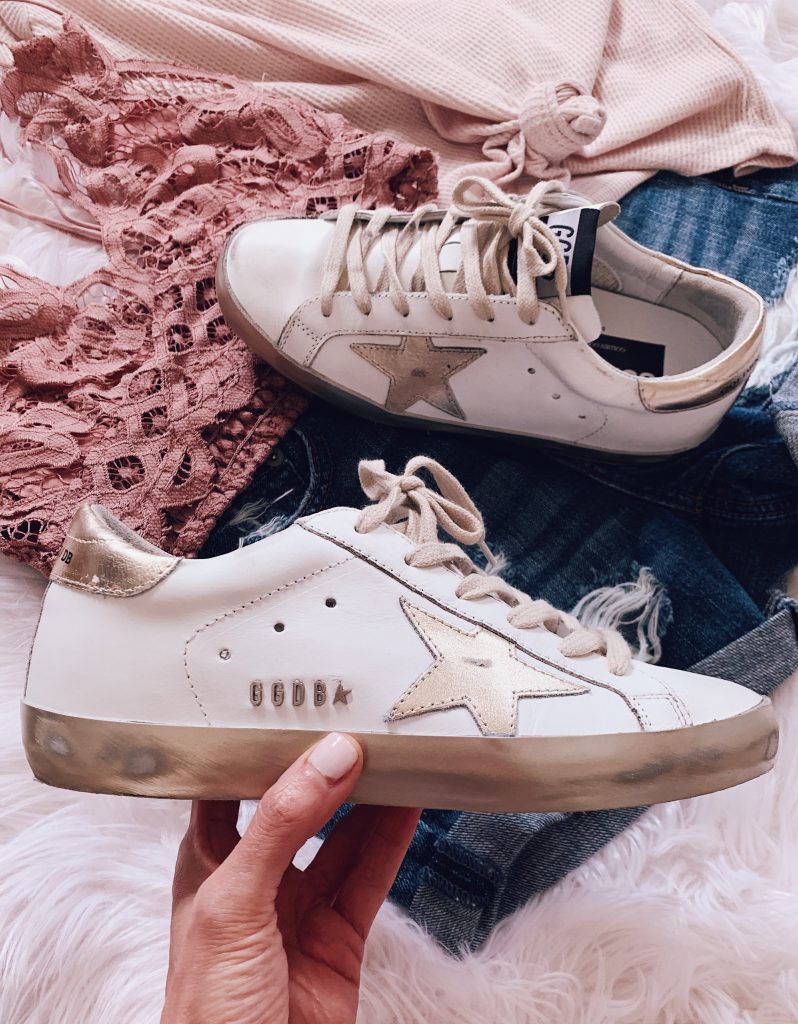 Metallic gold or silver leather – These are a great choice because they are seasonless. I have a pair with gold stars and they are probably my most-worn. Wearing a dress? Check. Black jeans? Check. Blue jeans? Check. If you want bang for your buck- this is the way to go! Plus the leather will hold up to spills and rainy bus duty days! Try these!
Plain classic white – This is a great choice since they look "fancy" with any outfit. Take a look here! There's something about a crisp, white sneaker that really adds polish to any outfit.
Tan with black stars – I recently got a pair like this and my heart does a little dance every time I wear them. Most of my wardrobe is based on neutrals and the contrasts of this pair are just everything. Remember to be mindful of the material of the sneakers though! Some Golden Goose have canvas or even suede so I'm careful with those on bad weather days!