When we were originally talking about renovating our old house, our contractor told us we should each choose one luxury item to add to it. I didn't really have much come to mind, but Mike knew instantly: a built-in coffee maker.
When we realized we were moving, the hunt for the perfect coffee maker went on the back burner for a bit. Until we moved in. Since then we have researched, scoured and debated, and finally, Mike has his dream coffee machine. So grab a cup of coffee and buckle up for the journey of finding the perfect cup of home-brewed coffee.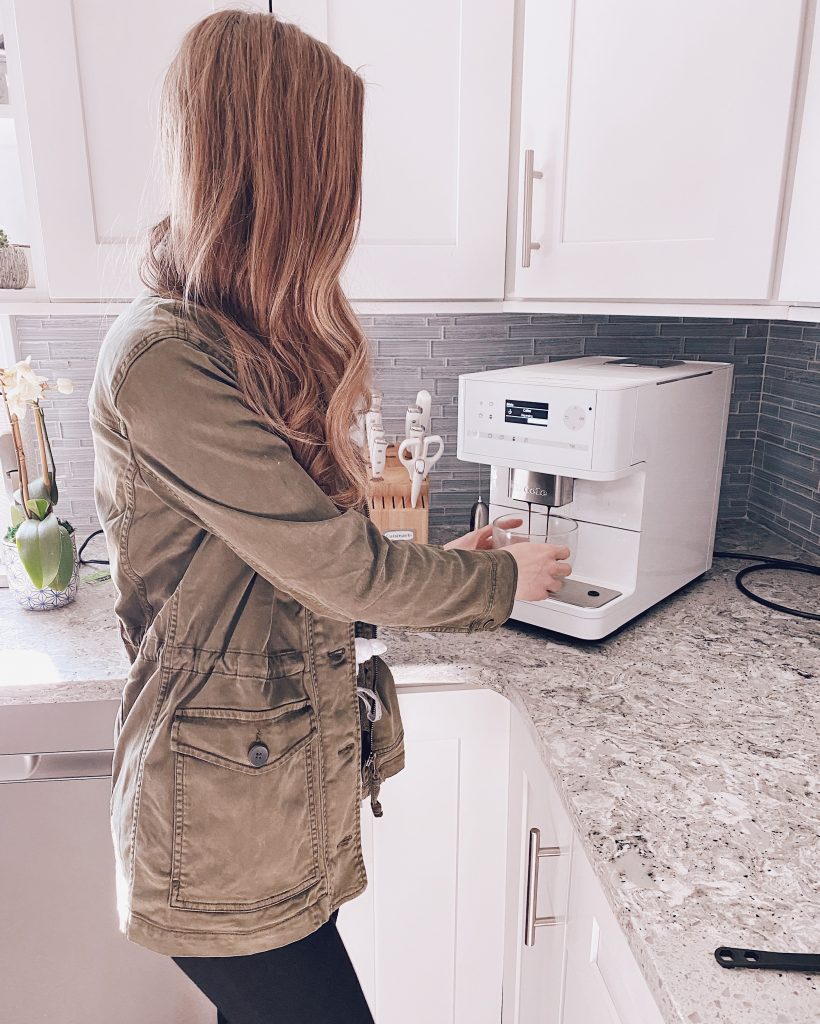 It's hard to imagine making a luxury item a coffee maker- until you think about it. If you're avid coffee drinkers- which we are- it's arguably one of the most used appliances in the kitchen. Mike drinks a lot of coffee throughout the day since he works from home twice per week on the norm. So we never worried that the machine wouldn't get much use… to say the least.
Before we moved we had quite the assortment of coffee machines. We had a single-serve coffee maker like a Keurig, a Nespresso, the Ninja Coffee Bar, a coffee grinder, and a Keurig Rivo. (insert the mortified emoji here) Our families love to give us coffee-related gifts since they know how much we love those little cups of joy.
For someone whose kryptonite is clutter- this sometimes drove me mad. In addition, I avoid plastic as much as possible, and I hated the idea of brewing hot water through thin plastic. I had searched and scoured the web for coffee pots for Mike to simplify this whole setup – to no avail. Everything I found was strictly based on espresso drinks- not regular coffee- and we like both. (Although I'm not much of an espresso drinker)
Then I stumbled upon THE coffee maker that actually fit our needs very well- it is definitely an investment, but one we had planned on making during our renovation. The perk (no pun intended) here though was that now we could get it on sale- with gift cards! Which is exactly what we did.
Miele Countertop Coffee Machine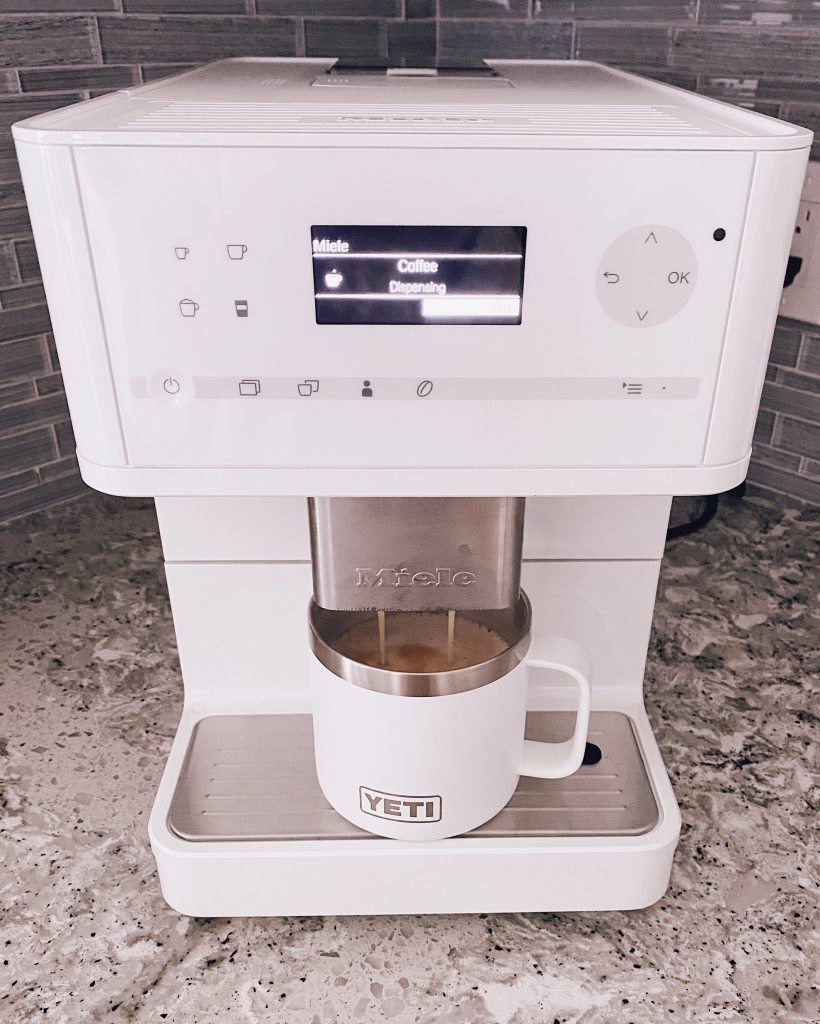 The Miele CM6150 Coffee Maker might as well be a spaceship. It is not for the faint of heart and truly lends itself to coffee connoisseurs. In other words- it was made for my husband.
Pros of the Miele – Why We Love It
Like I said, the Miele is truly for coffee connoisseurs! It essentially eliminates the need for every other coffee-making contraption we had:
It grinds your beans right before brewing
Allows you to use ground coffee as well as whole beans
Has the ability to heat and to froth milk – perfect for my healthy vanilla latte recipe
It's easy to take apart, and is dishwasher safe!
We waste so much less since it does not require filters of any kind
That said, the Miele CM6150 may not be for everyone- so I wanted to review the other coffee makers we've used throughout the years to help you decide which coffee machine would be right for you.

Keurig Brewers
These are obviously some of the most popular machines out there because they are SO EASY! The machines come in all shapes and sizes now and there are so many K-cups to choose from. This Keurig K-Elite is a great version to have and feels just fancy enough!
We got our Keurig pods in bulk and it was one of the most cost-effective ways to brew a quick cup of coffee. We also tried using the refillable pods with ground coffee to save on cost and lessen the waste. That said we were limited to K-cup compatible pods only and also felt the machines didn't always make the coffee super hot. (I did mention we are coffee snobs, yes?) Here's a few of my favorite Keurigs right now. This one is super compact- and PINK!

Nepresso Brewers
Nespresso brewers are ALL THE RAGE! I totally get why! You can make so many different drinks with them and they function on the same wavelength as the Keurig- one pod away from a yummy drink. We still love our basic Nepresso (and this one WAS on my wishlist) and Mike plans to keep it in his office. I never got to truly explore the fancier Nespresso's– since I usually only drink decaf and espresso can be a bit much for me. This is the reason we really wanted a coffee machine that made both regular coffee AND espresso.

Ninja Coffee Makers
If I could sum up our experience with our Ninja Coffee Maker– it makes GOOD COFFEE! We LOVED this machine. The coffee came out amazing and if you're not looking to spend a TON- and love regular coffee over espresso- this one is for you! I recommend it highly. Before we got our current machine this was our go-to. You can brew either a pot or a cup and the coffee comes out HOT. We loved that it lessened the pod situation- and that it had a cleaning cycle. That said, clean up was sometimes a pain.

There are SO MANY amazing coffee makers out there these days it's just about finding the right one for you and your family. Once you do- you never look back and life is that much better for it. It's the little things…