There is nothing worse than waking up late, feeling tired when you do, and then fumbling around trying to find something to wear. Like you, I have had many days where I have changed two or three times before walking out the door for school. Over the years I've come up with a little outfit formula I fall back on when I'm in a pinch. Luckily- this teacher style hack gets me to the classroom on time!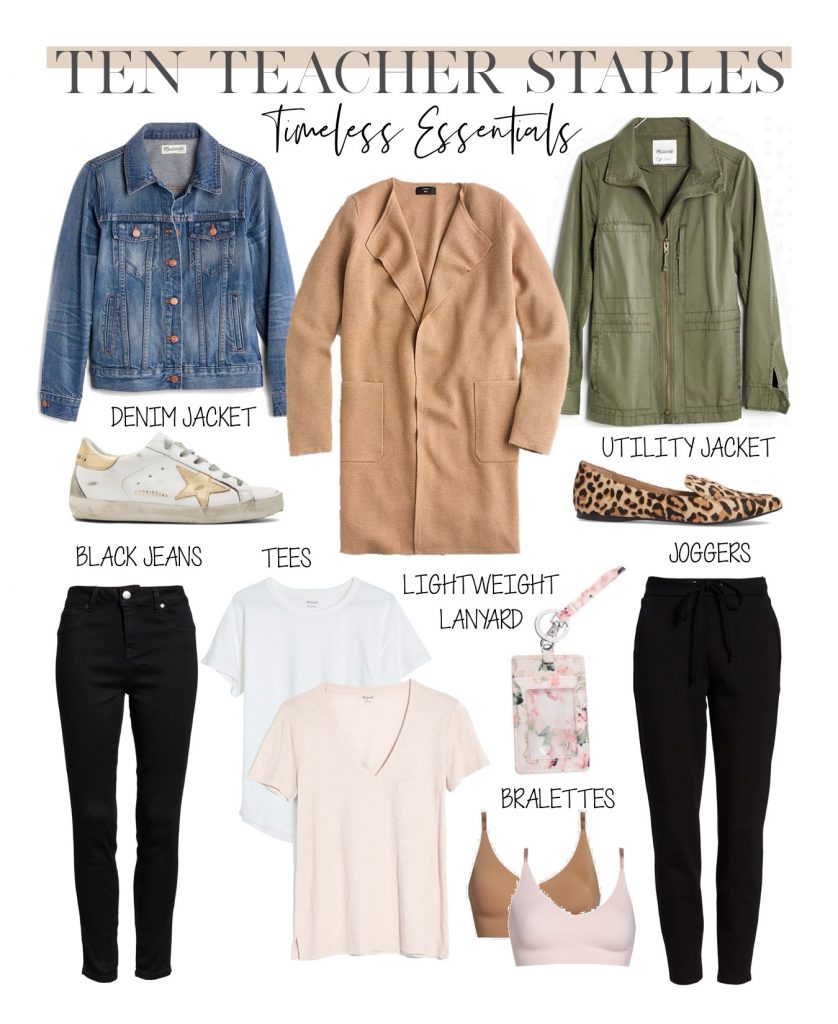 MADEWELL DENIM JACKET – true to size
| J CREW JULIETTE CARDIGAN – size down|
MADEWELL UTILITY JACKET (also here) – true to size|
GOLDEN GOOSE SNEAKERS– true to size, half sizes size down|
FLATS | BLACK JEANS | LANYARD |
MADEWELL TEES (V-NECK HERE & CREWNECK HERE) – true to size|
BRALETTES | AMAZON BLACK JOGGERS
Pick Your Pants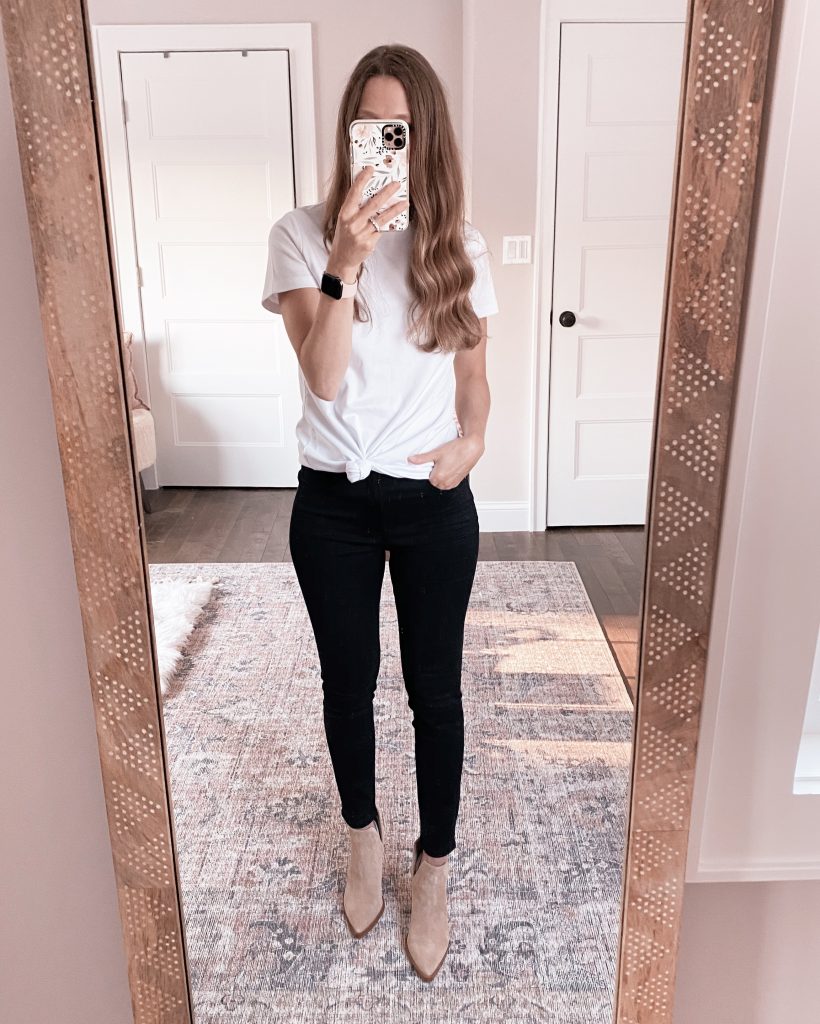 EXPRESS HIGH RISE BLACK SKINNY JEANS
TTS- I wear the short length I'm 5'3
I am on a permanent rotation of black jeans and joggers. Occasionally I'll throw on some flare jeans, and I always love a good dress down day- but for the most part, I keep it simple with my pants layer. I swear by these black jeans because they don't look like jeans at all- and I buy them in bulk. (more on this coming soon!)
If you're unable to wear business casual pants like black jeans or joggers- twill pants would be a great go-to. I pair my pants with either Golden Goose sneakers (more on that here), loafers, or booties. I tend to even rotate through shoes so I'm not in heels every single day. I consider my approach to pants similar to that of Steve Jobs… keep the same things in your closet so there's no stress in choosing. Next up: base layers.
More Favorite Pants for Teachers

Select a Short or Long Sleeve Tee Base Layer
I call short or long sleeve tees my outfit "base layer." This varies with the season though not by much. I always choose a smooth and soft base layer for my school outfits. My go-to's are polished tees and long sleeve henleys. You can also do sweaters and tank tops- but most often it's somewhere in the middle. I look for neutral color tops with some little details like buttons or a subtle heather blend.
Base Layers for Teachers

The Top Layers for Cold Weather and Classrooms
There are few days where my classroom feels temperature controlled. It's either freezing in the morning and warm in the afternoon- or my favorite is when it's warm in the morning but the heat legitimately shuts off around lunch. So I bring or wear layers.
Jackets, cardigans and vests are my go to pieces. Having staples like these in your closet are great for grab and go. Versatile cardigans and jackets will get you through any day. One important tip is to find the ones that will hold up through a ton of washing. You're better off investing in a Madewell denim jacket that gets softer with every wash- than go for one that will fall apart after a few wears.
Warm Top Layers
Shop the post

So that's my formula for fast-dressing while running out the door. What are some of your closet staples for teaching?