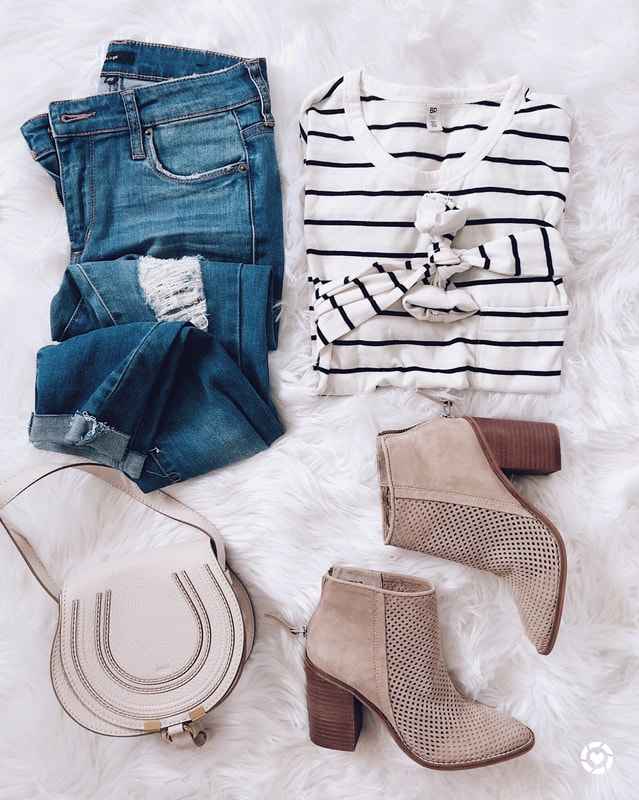 The Nordstrom Anniversary Sale is in full swing and before we move on, I thought I'd give one final round up of the three things I purchased and love from the sale along with three things I did not buy. I figure it may help you feel better if there was something you wanted but didn't get your hands on. Read on to find out some of my picks and some of my misses!

The Hits! Best of the Nordstrom Anniversary Sale
BP Striped Tee- $19
SIZING – runs TTS
This tee was a pleasant surprise! I am so picky about my tees and this one is so comfortable and the perfect length too.
Tory Burch Crossbody Bag- color shown- Light Oak
This bag wound up surprising me even more after the fact. At first I loved it but felt it was a bit overpriced, but recently after comparing it to the newest Chloe bag, I appreciated it so much more. It's an AMAZING dupe for a designer bag- everything from the color, to the size and the details too!

PJ Salvage Pajamas Set
SIZING – size up, purchased a small
These pajamas would make a GREAT gift! They feel luxurious and are SO comfortable. I love splurging on pajamas that I know will last and this brand always does. I know the Rails pajamas were all the rage, but I like these more and they are $30 cheaper.

The Pits! Nordstrom Anniversary Sale Misses
Caslon Faux-Shearling Jacket
SIZING – HUGE- sized down to XXS petite
I was so disappointed in this jacket. It was thin and the cut was so off. I had to size way down to deal with the boxy-ness and even then it just wasn't what I expected. One of my biggest disappointments.
Kenneth Cole Envelope Collar Coat
SIZING – true to size, a little large, bought an XS
I actually liked this coat and wanted to keep it. Sadly it was ITCHY! I cannot do itchy. I tried to consider that I'd be wearing it with long sleeves but just couldn't get past it!
BlankNYC Suede Moto Jacket
SIZING- runs big, size down
I tried this jacket on in store and was let down. It is no where near as great as last year's version, the color is tough to wear and the cut was on the larger size. It looks SO great on other people but for me, this was a miss. What were some of your favorite purchases from the sale?!