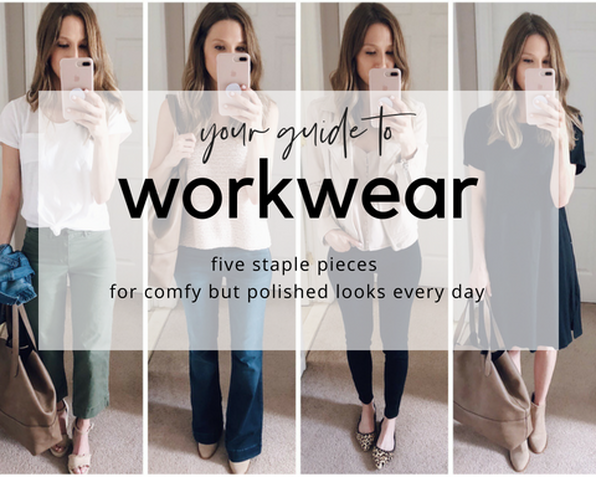 Time and time again I get requests for what I wear to work. Believe it or not, I tend to stick to the same key pieces again and again. I vary my colors and textures but overall, I'm pretty straight forward. I sat down and tried to think about what I wear the MOST and chose four of my go-to work outfits for you! The best part? They can ALL be mixed and matched to create a ton of other outfits. I guess in some respects it could be a capsule wardrobe… so let's start here. "Will you be posting what you wear to work?" The number one question I get is this one. My answer is always the same, I wear the exact same thing to work as I do on the blog, just with black jeans. That is true a good 90% of the time! Despite my needing to prep my blog content in advance, I am always wearing the same pieces throughout the week, just without the ripped jeans.
Piece One | Tees, Tanks, & Black Jeans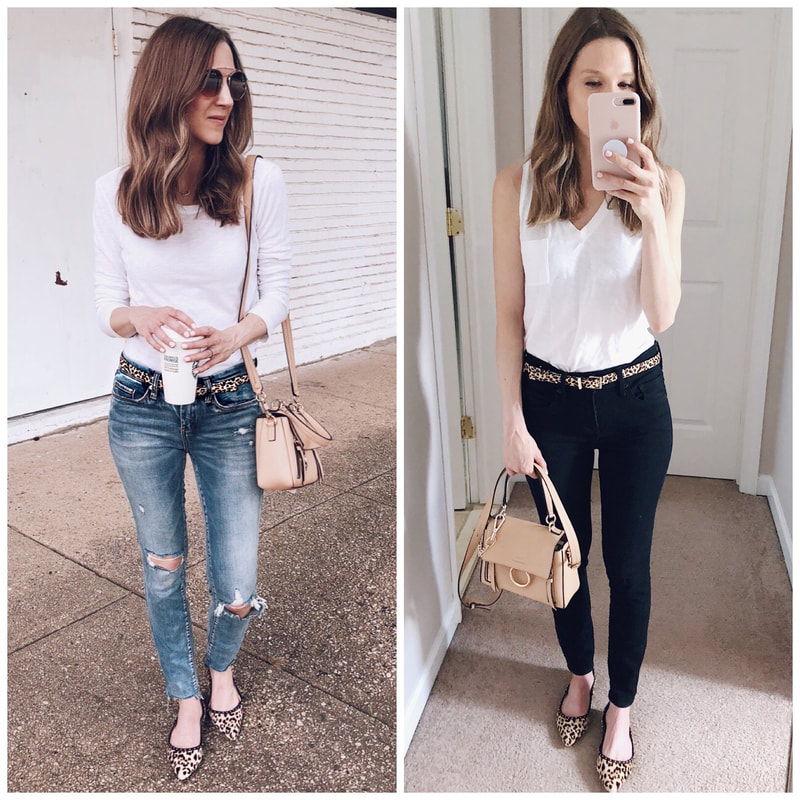 RIPPED JEANS | LONG SLEEVE TEE | TANK ($18!)| BLACK JEANS | FLATS | BELT
This outfit is the perfect example of what I mean! Add black jeans and you're golden.
Key Pieces:
LONG SLEEVE TEE – true to size
My favorite long sleeve tees are these and I have yet to find another brand that I like more than them. I stock up whenever I can and wear them alone or under things all season long.
​
SHORT SLEEVE TEES – true to size
Another great alternative to layering is a clean cut, short sleeve tee. This one and this one are my favorites. Both on sale!!
BLACK JEANS – true to size, wearing a 0 short
If I had to pick just ONE pair of go-to jeans for work- it's these. There is simply no better pair. They are professional and not a true jean material so they look much dressier than a pair with a lot of stretch.
Piece Two | Dresses & Jackets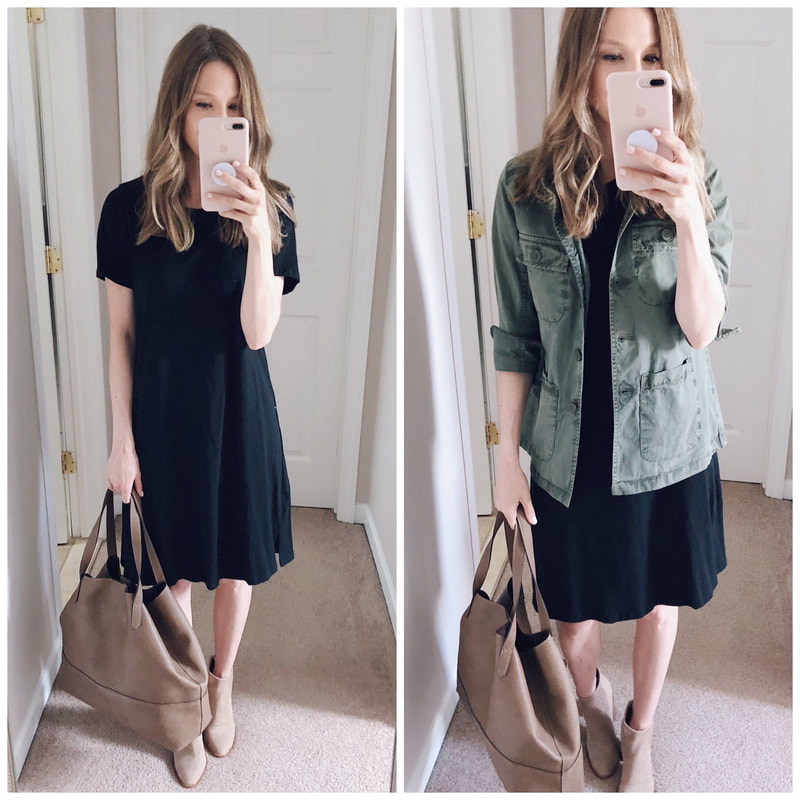 DRESS (get this $9 dupe instead here) | JACKET (dupe here) | BAG | BOOTS (dupe here)
I stick with simple dresses for work and a tee-shirt dress is a go-to. I like it best because it looks great layered under jackets which are other staple of mine. A cargo jacket is a must as a grab and go with everything piece. You'll be surprised how much you wear it! Here are a few of my favorite jackets right now at every price point!

MOTO JACKET (true to size) | CARGO JACKET (size way down) | DENIM JACKET
These jackets are investment pieces but I know that I will get a TON Of wear out of them. I truly grab for these pieces multiple times a week and I justify the purchase by knowing I can wear them to work or on the weekend!

MOTO JACKET (around $50!) | CARGO JACKET ($30) | DENIM JACKET ($30)
Piece Three | Pants | Okay So You Can't Wear Jeans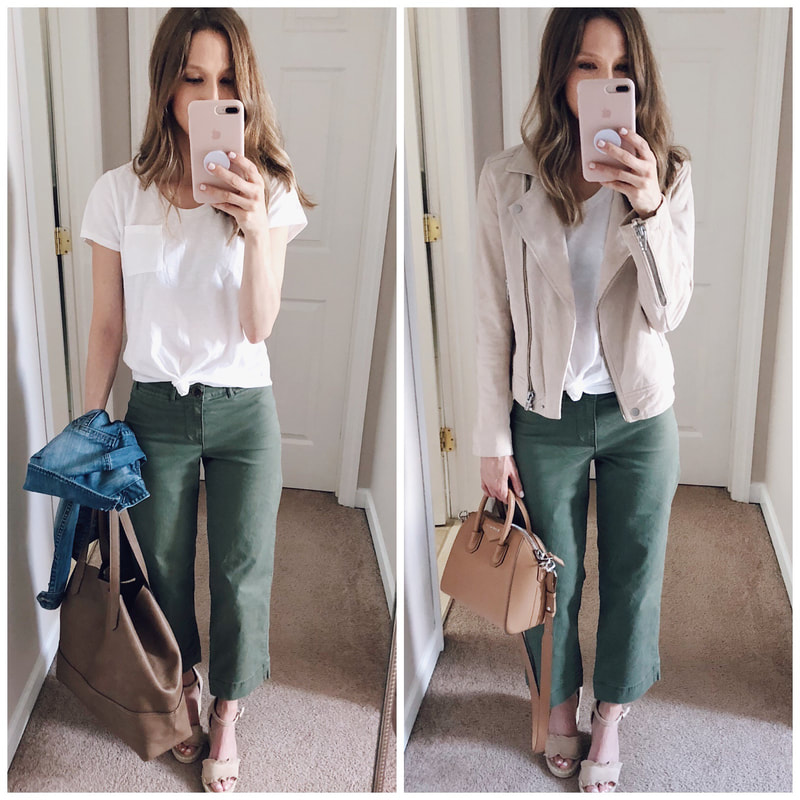 TEE (50% OFF!) | PANTS | TOTE | JACKET (similar)
I get it, you can't wear jeans to work. Whenever that happens, I always wind up with some Pixie or Chino pants. They are super comfortable and a fun way to switch things up a bit day to day. You'll notice they are paired with a basic tee again and of course, a jacket.
KEY PIECES
WIDE LEG CHINOS– these pants come in SO MANY colors. Sadly they are only available in regular length though, so if you're under 5'3 you'll need to have them hemmed. You can also try the skinny cut style which I swear by!
PIXIE PANTS– when I was a literacy coach these were the pants I wore religiously. I used to buy both the ankle length and the long length. They are made of a twill material and are super affordable. That said, wash carefully- they don't take a beating well.
Piece Four | Clean Cut Denim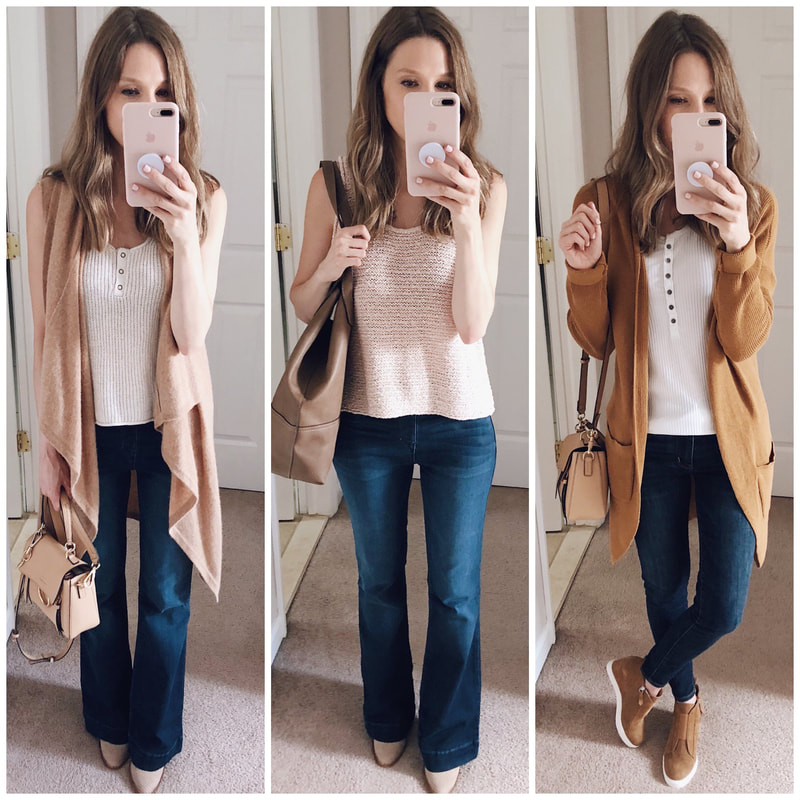 FLARE JEANS | VEST (similar) | SWEATER HENLEY | SKINNY JEANS |
SWEATER TANK | HENLEY (sized up to a small)| SNEAKERS | BAG
CARDIGAN ( sold out similar here and here)
For casual Fridays I look for clean cut, SUPER comfortable jeans. I have two pairs that I am madly in love with for work and I wear them all the time.
KEY PIECES
FLARE JEANS
​SIZING – I wear an XS regular, I am 5'3 and wear boots or wedges with my jeans- color shown is Brushed Pacific | regular length here , petite here, tall here
When these jeans showed up I had no idea what to expect. I am SO IN LOVE with them! They are stretchy and they feel like leggings, yet they look like your most-loved flares. They PULL ON- no zipper to speak of! They suck you in and make you look so good! In my opinion, flare jeans are sleek and polished- perfect with a blazer, cardigan or jacket for work.
SKINNY JEANS
SIZING- I wear a size 4 short in these jeans. I'm usually a 0-2 in other brands so I do size up.
These jeans are beyond comfortable. They have stretch and are so so soft. I love that they are high waisted and the wash is perfect. They wash well and go with everything. Easily dressed up or down!
Piece Five | The Work Tote

Three amazing choices of work bags. I love having a tote I can throw EVERYTHING into!
ONE | TWO (budget-friendly and comes in TONS of colors!)| THREE ($50!)