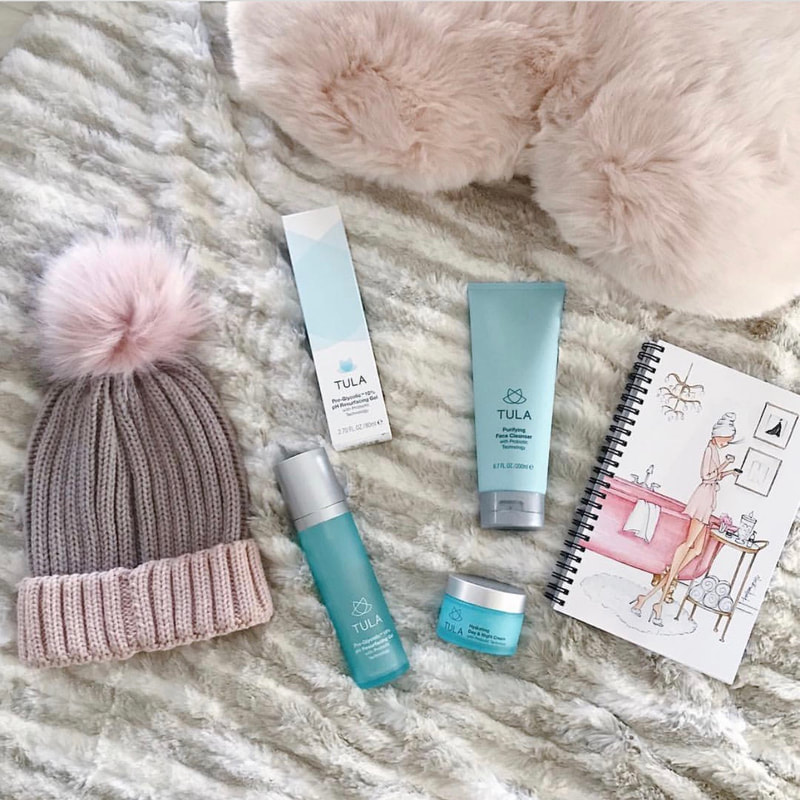 DISCOUNT CODE | SUNSETS20 for 20% off your purchase over $50
I don't think I've ever gotten more questions about a skincare line as I do about Tula. I'm very picky about the products I use especially since I have such sensitive skin. I get asked for my tried and true products- so I've rounded them up for you! Tula provides instant results for me, all without the irritation other products tend to bring. Keep reading to find out why NOW is the best time to try it if you've been waiting! (it may or may not include a giveaway!)Tula has just released a brand new discovery kit called their Complete Body + Beauty Kit and it's AMAZING! These types of kits are the best way to try a new brand and to see which products you (and your skin) loves. The kit in particular is amazing because it includes all of their tried and true best sellers. These are the products that introduced me to the brand and that I've been using for a long time. This deal is so amazing it's a great time to try the brand if you haven't already! You get an entire regimen for a little over $100!
PURIFYING CLEANSER
​This is a beauty routine staple. (even Mike uses it religiously) It takes off makeup and works so well with my Clarisonic. I love how creamy it is and how it does not dry out my skin!  
PRO-GLYCOLIC 10% PH RESURFACING GEL
This was the skincare step I never knew I needed. This gel evens out your skintone and leaves your face feeling so clean- but not tight! It didn't dry me out at all which is SO RARE for a toner. My face glows after!
HYDRATING DAY AND NIGHT CREAM
This cream is so hydrating but yet isn't heavy at all. It's rare when I can find a daytime moisturizer that doesn't slide my makeup right off, but this one does the trick. Leaves my face SO soft!
DAILY PROBIOTIC & SKIN HEALTH COMPLEX
I just started taking this probiotic recently. I used to use a protein powder with probiotics in it but have changed things around. I know the importance of probiotics in my diet so I've been searching for the right one. My favorite thing about this one is that it has Vitamin C- which this teacher needs on a consistent basis. Since it's in this kit, it's a GREAT way to try it!
Don't forget to use code SUNSETS20 for 20% off of your purchase and feel free to also visit my other post where I compare Tula to Rodan and Fields and I also give a live demo of their microdermabrasion pads!
TULA GIVEAWAY!
When Tula wrote to me about this amazing kit- the first thing I said was "Can I give one away?!" (I've got you) They generously said yes so when you sign up for the Sunsets and Stilettos newsletter-  you are entered to win one of these amazing kits!