Depending on where you teach, you may be held to strict guidelines. These days it seems standards, testing and curriculum tend to guide our instruction- if not drive it completely. Lately many of us have been reflecting on how we have been honoring diversity in our classrooms and I know I have been diving deep into all types of children's literature that I will be able to use with my students to promote discussion around racism. Read on for some of my favorite titles along with three tips on how to make them work for any curriculum!
I have been reflecting so much on not only myself as a person, but my practices as a teacher when it comes to racism, but more importantly, anti-racism. I am lucky to be in a grade where the literacy curriculum focuses a great deal of its time on equal rights, human rights and the civil rights movements. I am lucky as I've been reading more titles that they seem to fit in effortlessly. It got me thinking though, that everyone might not have that same perfect setup- but that there are definitely ways to work around that as we carry on with action in our mission against racism in schools.
Teacher-Approved Children's Books That Promote Diversity
Before I get into the various books we can use to spark discussions, please remember to preview each before you read them to the class. This will help you to prepare for the discussions and the questions that may arise. This will also allow you to make decisions based on grade and age as well.
Picture Books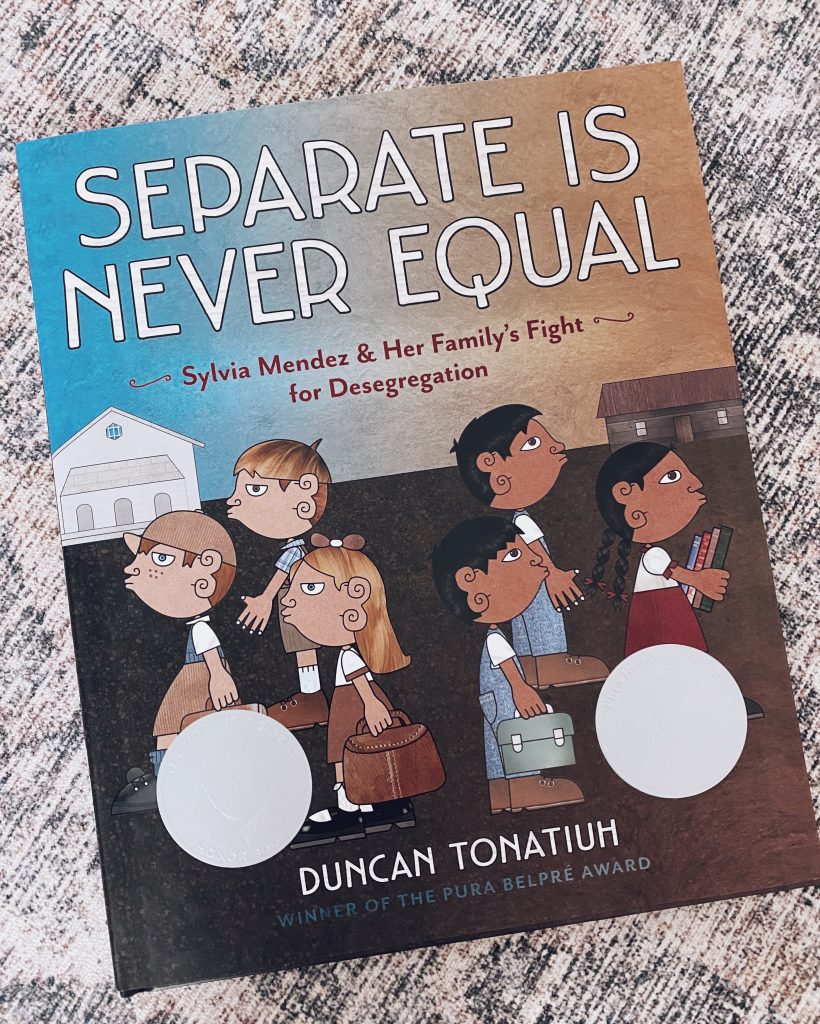 It's important to remember that pictures books, especially nowadays, truly are for every classroom. I've taught students of all ages, and I've taught adults too- and everyone loves a great picture book. So many pictures books are challenging reads both with their vocabulary and even more so- with their content. This picture book Separate is Never Equal hits on so many of the discussion points that the novel Esperanza Rising does- but it does so in a reachable format with engaging pictures. Here are a few of the pictures books I love to integrate into the curriculum all year long.

Little Legends by Vashti Harrison
All Because You Matter by Tami Charles
Sulwe by Lupita Nyong
The Day You Begin by Jacqueline Woodson
Hair Love by Matthew A. Cherry
Chapter Books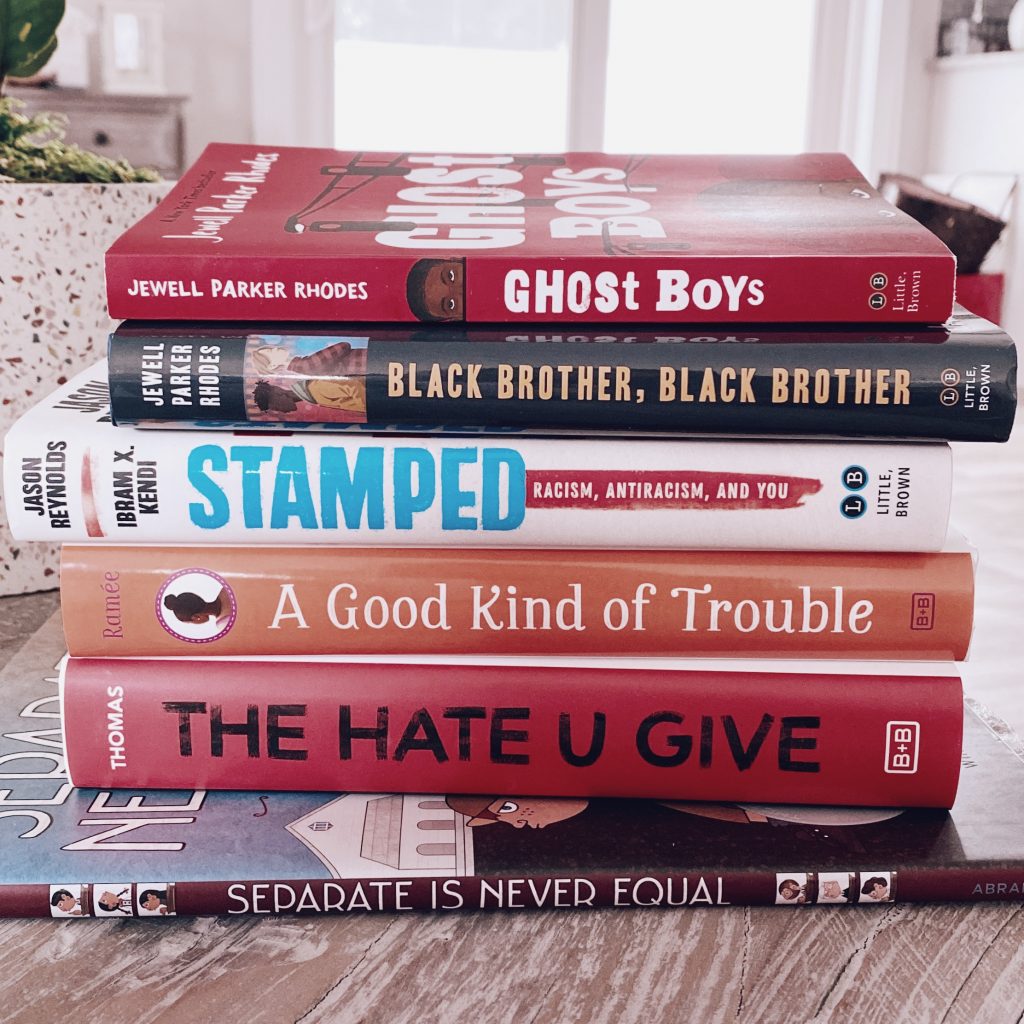 Chapter books are an amazing way to develop empathy in all readers, young and old. We learn and grow from our characters and it's amazing to see the discussions doing so can bring. Setting of these stories become just as important as the characters do as they offer such valuable information into the historical content of the time.

Ghost by Jason Reynolds
Other Words for Home
How High the Moon by Karen Parsons
Ghost Boys by Jewell Parker Rhodes
Stamped by Ibram X. Kendi Jason Reynolds
Genesis Begins Again by Alicia D. Williams
New Kid by Jerry Craft
How to Engage Children in Conversations About Diversity While Reading
Here are a few of my favorite ways to integrate books that may not fit seamlessly into the curriculum.
First Chapter Friday
This is a great themed practice where each Friday we read the first chapter of a new book to create some hype around it. We read a chapter, and stop to dissect it – everything from characters, to settings to predictions and early-on conclusions. This is an easy-access way to introduce and to promote diverse books.
Picture Book-a-Day
Similar in concept, this is a great activity to do before lunch, after lunch, first thing in the morning after attendance or right before dismissal. I used to have my second graders pack up their things and "meet me on the carpet." They were always so excited. Here we can share so many amazing picture books that introduce diverse characters and sometimes, big issues. Reading aloud to children is critical in their development of comprehension, vocabulary and pure book joy. Here are a few of my favorite titles.
Lastly, there we can use text to text connections in less obvious ways, even when books don't connect to the curriculum at first sight.
Characters
Finding characters that are similar in their behaviors can be a big help. Even the characters do not look the same, perhaps they overcome, they persevere or they face adversity. Connect these characters and you can tie texts together that may not have gone together to begin with.
Setting
Connect texts with the setting. I always tell my students that setting goes long behind the "when and where." Setting also includes historical context and historical climate. This opens up our ability to match books much more- as we can often find ties between various settings that may or may not be identical.
Theme
By nailing down the common themes we see in books such as perseverance, bravery, courage, friendship, understanding and forgiveness- we can sometimes connect texts in interesting ways. They could only be joined through that intangible ideas- but oh what discussions will be born.
As I continue on my journey to learn, to listen, and then most importantly to advocate and to teach- I will be leaning into these best practices to help connect so many more books with my students in the years to come.
As you explore these suggestions here are a few resources for supporting online bookshops as well.
10 Black-Owned Online Bookstores to Support While at Home
Bookshop.org | This List is Anti-Racist