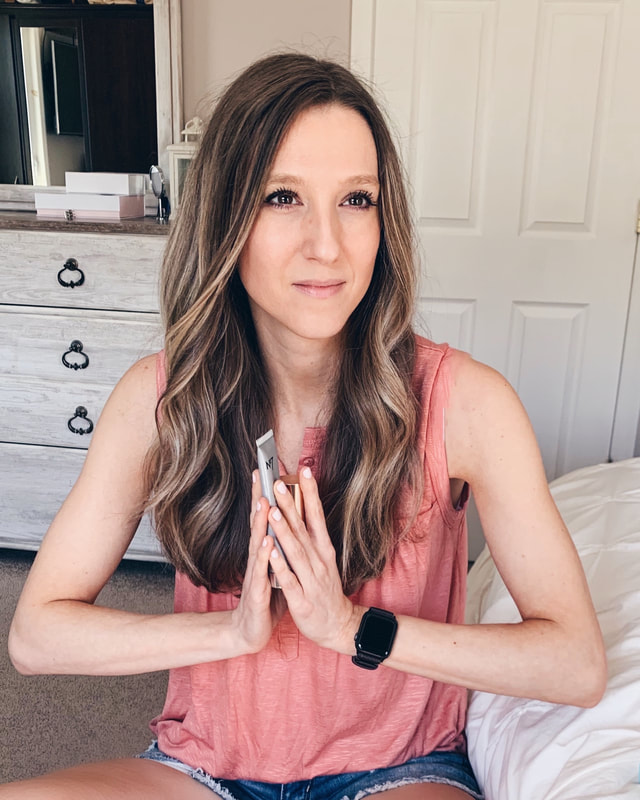 A little while back I was rushing out the door and wanted to even out my skin without needing a full blown makeup routine with foundation. I like to give my skin on break and sometimes I'm just flat out lazy. I had read about the concept of "Yoga Skin," super low maintenance, minimal products, lit-from-within- glow. I grabbed two products I had been using and the next thing I knew I WAS glowing. Read on for what I used- and how I accomplish the easiest, five-minute glow from within skincare routine ever.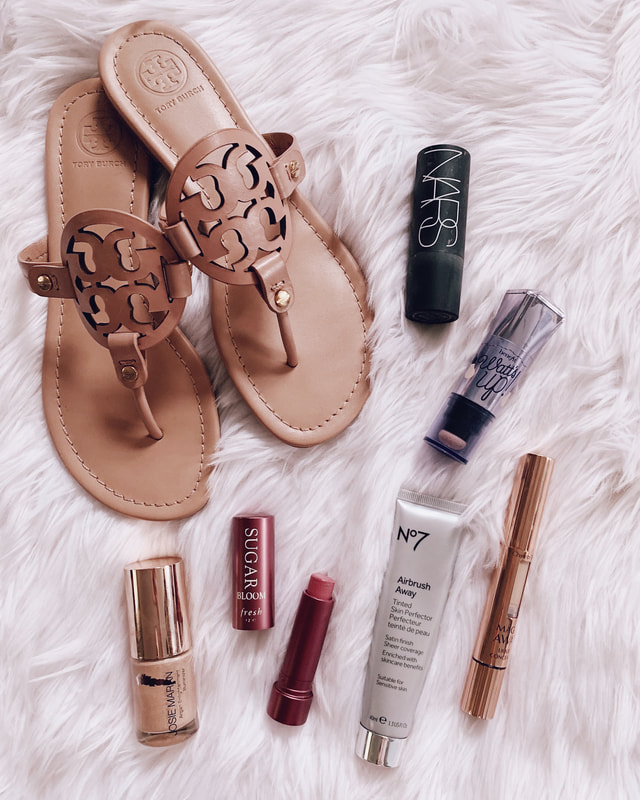 Before you begin…
After you cleanse your face, I suggest exfoliating. Since this is a minimal makeup look, it will help to remove dead skin and reveal a glow. This Tula Exfoliating Sugar Scrub is my FAVORITE because it is effective but so gentle. After you exfoliate, moisturize as normal. I use either Tula Hydrating Day Night Cream or some Josie Maran Argan Oil. Finish with your favorite sunscreen. I love Josie Maran Protect and Perfect. Now you are ready for Yoga Skin!
STEP ONE | CONCEAL
Before you start, conceal any under eye darkness with a sheer concealer. I use Josie Maran Vibrancy Full Coverage Concealer or Charlotte Tilbury's Magic Away Concealer. These both aren't too opaque and do just enough to minimally cover any under eye circles or redness for this look. I use my fingers to blend but you can use a beauty blender as well. OVER my concealer (important!) I finish with Tula's Glow and Get It Cooling and Eye Brightening Eye Balm and it's the perfect pick me up!
STEP TWO | NO7 AIRBRUSH AWAY TINTED SKIN PERFECTOR
I have tried A LOT of primers… but this one takes the cake. It's super lightweight and leaves THE MOST flawless finish. But for me, it's a bit TOO matte by itself. So before you put it on this primer… combine it with the product from step 3 below!
STEP THREE | JOSIE MARAN ARGAN ENLIGHTENMENT ILLUMINIZER
Josie Maran's Illuminizer is one of my favorite beauty buys from 2019 so far. It gives the PRETTIEST glow that isn't too much at all! You can use it so many ways too! I've used it under foundation all over my face, and on top of foundation as a highlighter. For Yoga Skin, I mix this with the No7 Primer and it creates the prettiest glow!
You can customize the balance between the matte finish of the primer and the glow of the Illuminizer as you see fit!
STEP FOUR | NARS THE MULTIPLE BLUSH STICK IN ORGASM
This Nars blush stick is the single most universal blush I've ever used! The color looks great on every skin tone so you can't go wrong, and it leaves the prettiest wash of color. Powder blush need not apply for Yoga Skin- this creamy stick is just what our cheeks need for a dewy look! Apply on face and blend with fingers!
Pro tip: If you want a little extra glow, you can add Benefit's Watt's Up highlighter above your cheekbones, down the bridge of your nose or in your cupid's bow!
STEP FIVE | LASHES AND LIPS
To finish off, add a coat of whatever mascara you love and a sheer tint for lips! My favorites for this look are Tarte's Lights, Camera, Lashes Mascara and Fresh' Sugar Tinted Lip Treatment in either Bloom, Rose, or Honey. Hope you enjoyed this tutorial and if you try it- let me know in the comments !