When I had the chance to get my hands on this sort after hair drying device- I took a chance. I had heard mixed review and didn't really know what to expect. When it came I fell down a rabbit hole, joining Facebook groups, watching videos and practicing using it myself. Here's what I learned.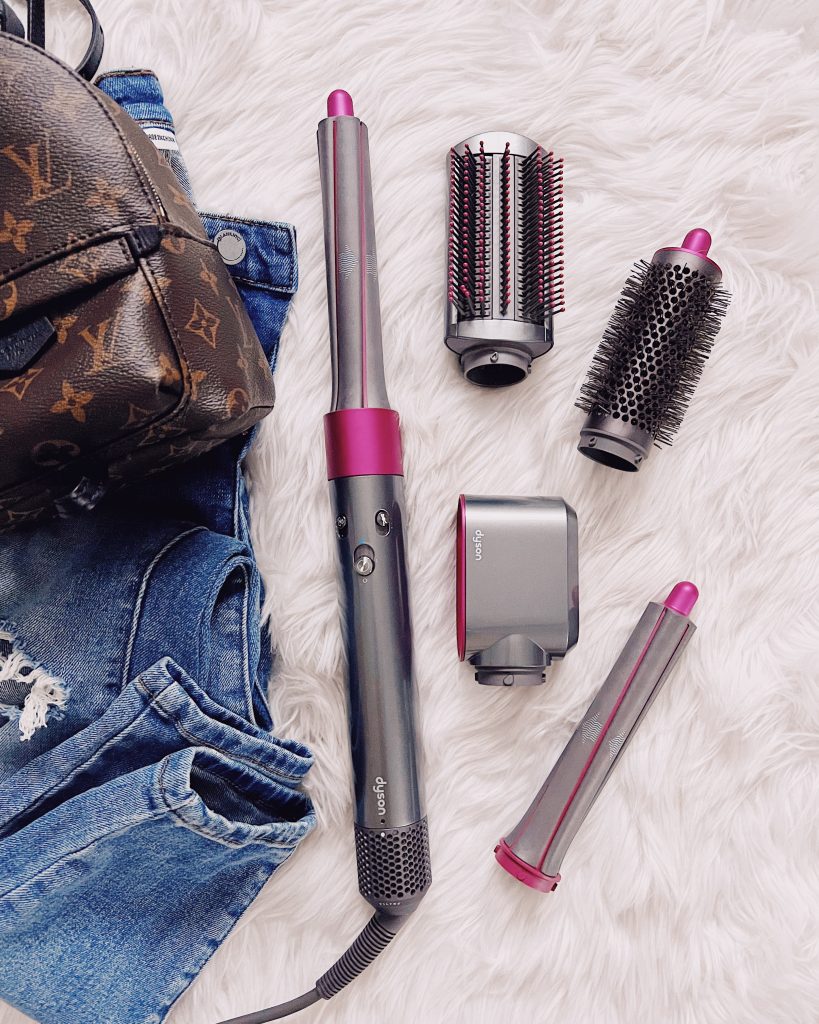 I can see why the Dyson Airwrap (in stock HERE!) is touted as "the girl version of a PS5." It's addicting. Since getting mine it's pretty much become a hobby. The question I get the most is "is it worth the money?" I"ll explain why that's so hard to answer.
The Dyson Airwrap really is one of the most innovative tools I have ever used. It can do many things. It does take some skill and most importantly, learning what your own hair needs. It is most acclaimed for the curls it can create but most criticized for the curls not staying. This, also, comes down to your own hair- and also – user error. If you find it fun to use- you may have yourself the best present you've ever gotten.
For me- I feel the Dyson Airwrap simplified my life. Prior to having this tool- I would blow dry my hair with a few brushes, then straighten the ends, then use a curling wand. That's not only a major hassle, it's also a lot of heat on my hair! Sometimes I think it's a wonder I have any. But that's all thanks to Monat haircare- which is a story (or post) for another time.
Depending on your hair type, The Dyson is not necessarily a replacement for the exact capabilities of a curling wand. It's a way to achieve similar results with less heat. Less heat = curls that don't always hold. Sure there are some hair textures that will hold curls for days- but again it depends. I've never had curls that hold- so this was no change for me. That said, here are the best tips I've found to make me love my Dyson Airwrap even more.
Your hair isn't wet enough.
This is something I'm still getting right. It's not easy feat to dry your roots but not your ends when this little powerhouse of a hair dryer gets the job done FAST. If your hair is too dry the curls definitely won't stay. Even if you're going for a voluminous blowout, only rough drying your hair a bit is important.
You're not using the right attachment.
It can sometimes be hard to know which tools to use on your hair if you're going for a certain look. For me, I don't have straight ends so I need to use the straightening attachment first. Learning which tool makes sense for your hair will help. Most importantly for curls- you need the long barrels (unless your hair is above your shoulders- but maybe even then.) My personal favorites are the 1.2 long barrels, they achieve results most similar to my 1.25 inch curling wand. The .8 barrels create tight beachy curls that will fall out less over time as well.
You're not using mousse if you're going for curls.
This is stated all over the interweb. When using your Airwrap for curls, the number one product to use is mousse. It creates texture in your hair enough to keep the curls in longer. I wouldn't have thought this a thing- until it was. I see a major difference when I don't use this one particular product.
So is the Dyson Airwrap worth the money? Well, the more I use it, the more I love it. It's simplified my life, and as crazy as it sounds, it has brought some joy to the chore of doing my hair. It's hard to put a price tag on that.