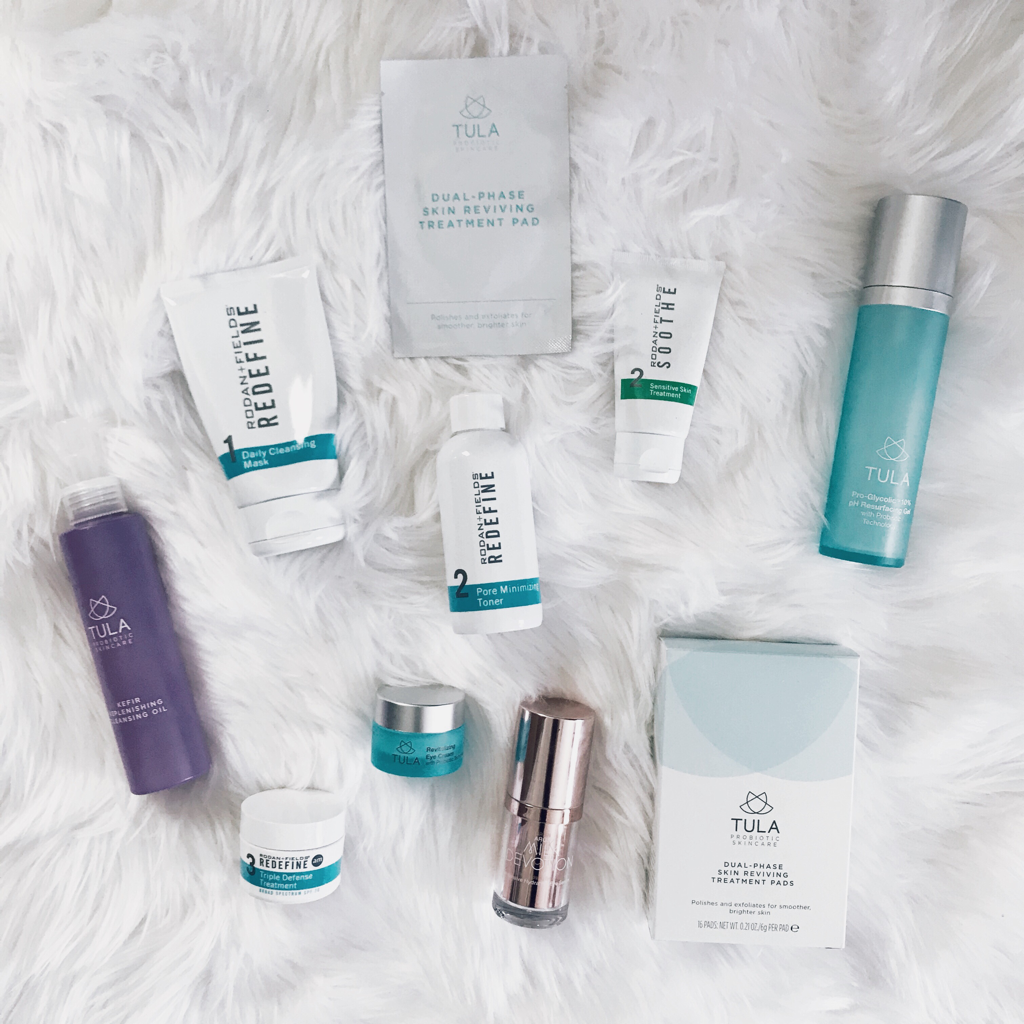 TULA DISCOUNT CODE | SUNSETS20
I remember when my friend from high school got off the train and I saw her skin looking better than it had in all the time I've known her. She told me she had started using Rodan and Fields and was selling it too, so being the supportive friend I am, I had to try it. There are definitely products I can't live without, but there were some I couldn't live with either. There were also some products I was using that just couldn't be replaced by one of the most sought-after products lines out there. 
I'll cut right to the chase and tell you that the Redefine line from Rodan and Fields really does work. I do think you need to use every piece for it to work its magic. My skin is more even-toned than it has ever been in my life. That said, there are some products I didn't think lived up to the hype too. 
Rodan + Fields vs Tula & Colleen Rothschild cleansers
RODAN + FIELDS REDEFINE CLEANSER
I do love the Redefine cleanser, I think it is one of the key pieces to evening out my skin. That said, this cleanser did not remove my makeup. This could be a deal-breaker for some of you, and I don't blame you. I'm not much of a double cleansing girl either. Because of this, it was important for me to start double-cleansing, but I needed to find something super gentle so my skin wouldn't get irritated. I found a few alternatives I like much better. 
TULA KEFIR REPLENISHING OIL CLEANSER
This stuff melts my makeup away, it removes EVERY trace! I use it with my Clarisonic and then I follow up with my redefine cleanser; this has given me amazing results. (​If you're double-cleansing it's definitely the way to go, but if you're oily and only cleansing once, stick with Tula's regular Purifying Face Cleanser.)
COLLEEN ROTHSCHILD CLEANSING BALM
Most recently I also started using the Colleen Rothschild Cleansing Balm and it has become my holy grail cleanser. It's a one stop shop and makes my skin glow. I don't even need my Clarisonic! Use code SUNSETS20 to save 20% off.
Rodan + Fields vs Tula Skincare Treatments
The one Rodan + Fields product I'm obsessed with!
RODAN AND FIELDS SOOTHE SKIN TREATMENT
This is another one of my favorite R+F products. It has helped my (and Mike's) skin become so much less red over time. I never miss a day without it and I love having it on hand when my allergies flare or when I do any sort of microdermabrasion. 
An okay Rodan + Fields product, with a better alternative from Tula
RODAN AND FIELDS MICRODERMABRASION PASTE
I started using this paste about once or twice per week. It does an amazing job, but I can say that my face was often red and irritated after. I loved the benefits but not the fallout. Instead, I use Tula's Skin Reviving Treatment Pads!
TULA'S DUAL-PHASE SKIN REVIVING TREATMENT PADS
Recently I was lucky enough to try Tula's Dual-Phase Skin Reviving Treatment Pads. Tula sent them to me and asked me to use them for the first time live on Instastories. I was so excited for a company to allow me to do an honset, in-the-moment review. These claim to be an at-home facial for sensitive skin, and knowing my problems with the Rodan + Fields microdermabrasion paste, I thought I'd give it a try. I've used it twice since and both times it gave me the SAME results as R+F, with much less redness. I'm actually going to make a permanent switch. ​You can see a live video of me using them below! 
RODAN AND FIELDS LASH BOOST
I actually didn't like the lash boost. I think I might be the only one on the planet. Did it work? Yes, it did. Did I pay a major price with sandpaper eyes that were puffy and red… oh yes. I opted to discontinue use because it was truly unbearable. I've also used Neulash and had a less severe reaction. That said, since then I've started using castor or argan oil on my lashes and it is doing a nice job. 
RODAN AND FIELDS EYE CREAM
I also struggled with the eye cream which made me sad since it is supposed to be a miracle product. It made my eyes burn terribly too. I do find now that I can sometimes use it, if I apply it correctly and put it no where near my eyes. Makes sense no? Luckily I found a few other eye products that I love that don't irritate my eyes at all.
TULA MULTI-SPECTRUM EYE RENEWAL SERUM
This eye cream depuffs my eyes and it is amazing. Even the new R+F eye cream aimed at puffiness hasn't given me as good as a result as this does. Again, I do have sensitive eyes, so many products are just too strong. For moisturizing my eye area, I love the Tula Revitalizing Eye Cream. It makes them so soft and doesn't create the least bit of irritation.
JOSIE MARAN DEVOTION CREAMY ARGAN MILK EYE SERUM
I also love Josie Maran's Devotion Creamy Argan Milk Eye Serum for when my sensitive eyes need a dose of extra moisture. I LOVE layering this on at night as it can be used on eyelids too. It has never burned or bothered my eyes at all. 
One of the things I felt was missing from the Redefine line was a plumping of my skin. With Tula's Volume Defense Deep Wrinkle Serum, you see results instantly- your skin wrinkles are less noticeable right away, and I didn't see any of that with Rodan and Fields, until I bought the Active Hydration serum. This product definitely plumps skin, but it is SUPER pricey- especially when I know I can get similar results from both the Tula Volume Defense Deep Wrinkle Serum and the Kefir Moisture Repair Pressed Serum as well. 
I love the results I have gotten with Rodan and Fields but I can't say there haven't been some challenges too. I also know that R+F is an expensive investment, and I like that many of my tried and true Tula products are a great, more budget-friendly option for those who can't afford Rodan and Fields.
If you're going to make an investment and don't have sensitive skin, buy the Redefine four piece kit and call it a day. Then supplement with Tula or anything else you think you may need. I love doing this with Tula because it doesn't clash with any of the other products I'm using either.
Since originally posting this review I have stopped using Rodan and Fields. I've only been using Tula and Colleen Rothschild on my skin. I can't say it is as even overall but it is much less irritated which is worth it to me!