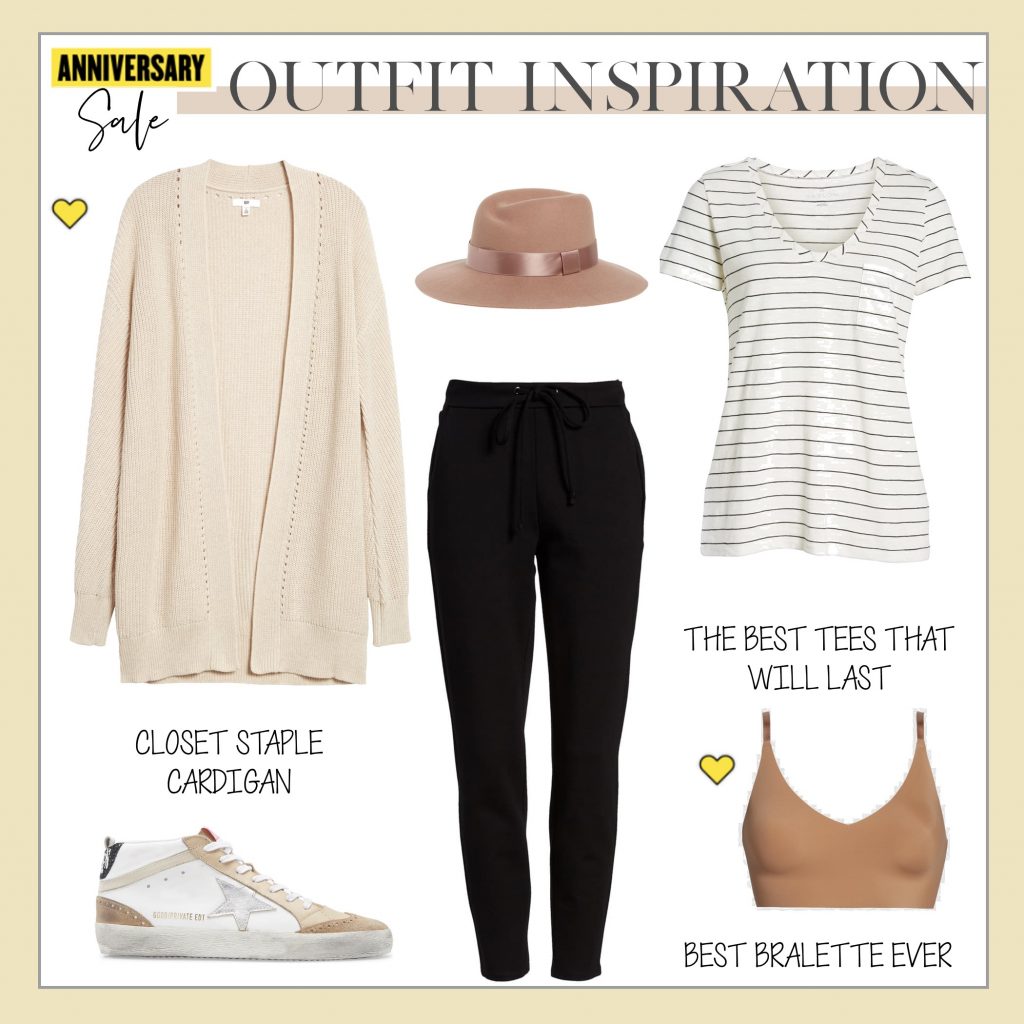 JOGGERS | CARDIGAN | BRALETTE | GOLDEN GOOSE SNEAKERS |
HAT | STRIPED TEE ($12!!)
It's hard to believe we've made it to August. The Nordstrom Anniversary Sale is almost here and it kind of feels a bit like the best part of 2020 thus far. Well this and the new Taylor Swift album.
The sale is running differently this year where we can preview the sale a week in advance and peruse all of the goodness. If I'm being honest, I had low expectations this year- (call it 2020 pessimism) but I was actually pleasantly surprised. Read on for my thoughts on the sale during a pandemic, and my strategy to shop it right.
So we get to shop the Nordstrom Sale during a pandemic. Truth be told for me, it's full steam ahead since here in New York- we will be back to the classroom come September. That said- things can change in an instant these days- and there's always a chance we will be back to remote instruction again soon after we start. For that reason, I am shopping for the most versatile pieces I can find. There may be a few work-friendly items thrown in- but overall- I'm sticking with the basics. Which is what I normally do!
The pieces I've put on my wishlist so far are the basics that look great with black jeans for work- or joggers if we are home! Soft tees, tanks, crew neck sweaters and cardigans all transition beautifully from one location to the next. Everything I plan to show you will be teacher-friendly!
The Nordstrom Anniversary Sale truly is one of a kind. It includes Fall pieces at steep discounts so you can build your Fall wardrobe for less. Over the last few years this sale has become an EVENT! Things sell out sometimes within hours and we are left wondering how that was even possible. (I'm looking at you Leith Circle Cardigan in pink)
I'm rounding up my top tips for you in hopes of helping you navigate the murky shopping waters. (dramatic? Talk to me when Early Access hits.)
If The Bachelorette can give a first impression rose, so can I. These are some of the first things to catch my eye from the Nordstrom Anniversary Sale.
Tips and Tricks to Shop the NSale
Tip 1: Buy more, regret nothing.
We came up with this motto a few years ago and after the sale, you all said it made all the difference. Now let me clarify- this does not mean you need ALL THE THINGS. It means that you buy what you LOVE and decide what to keep and return once you get it.
It's basically like backwards budgeting. The reason I say this is because let's say you pick item A over item B to stay within your budget. Item A comes and it either sucks or it doesn't fit. Now you realize item B is the way to go and guess what? SOLD OUT. Don't let it happen to you (I have the DMs from last year to prove it happens!)
So when you see something on Instagram or Instagram Stories- click and BUY! NO wishlists, no carts, no waiting until lunch. You can always return it, but more on that in the next tip.
Tip 2: Take advantage of easy returns.
A few of you shared that you have to drive miles to deal with returns. Did you know USPS comes to my door to pick up my prepaid returns? Nope, not kidding. You can check if this is available on the USPS app and click on SCHEDULE A PICKUP. Buy more, regret nothing.
Tip 3: Don't be TOO stingy.
Hear me out. There will be a million different tee shirts available to choose from. Last year everyone went for the cheapest one and you know what happened? They needed to be hand washed or dry cleaned. They washed terribly. Over here in the Sunset Squad though, I told everyone to splurge the extra $5 for these tees that will last you for YEARS. Sometimes, the few extra dollars will pay off in spades. 
Tip 4: Don't make a list- well kind of.
If you do decide to make a list, make it a general one. What KINDS of pieces do you swear by? Booties? Cardigans? Basics like skinny jeans and tees? Once you have categories you have starting points and can see if what you love fits into the parameters you've set. In the 25 minutes you spend searching "brown suede moto jacket" the other perfect winter jacket you didn't know you needed sold out. For the record though, this moto jacket is HIGH on my list this year.
Tip 5: The basics always win.
From what I've seen this year, the handbags leave a lot to be desired- so let's skip those. I'd plan your budget around basics like tees and henleys like this one, cardigans, and joggers. The shoes are also on POINT so I will definitely be investing in a pair or two.
​