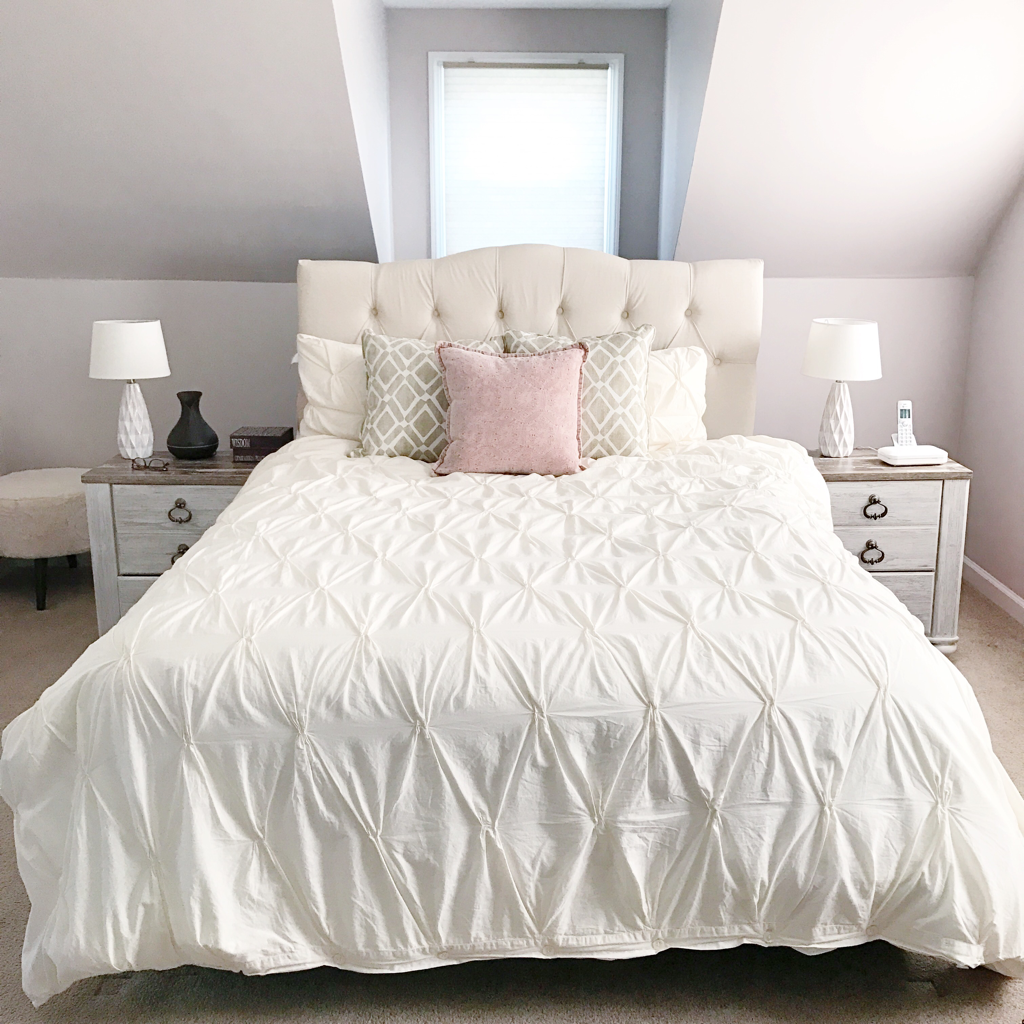 NIGHTSTANDS | BEDDING | TAN PILLOWS | PINK PILLOW | LAMPS
When I met my husband, he had already bought a house. It's a lovely house, but as a person who is very sensitive to the energies of people and places, I can tell you that for a long time, the energy in the house was off. There was something stagnant and heavy about it, most especially in our bedroom.
I started to do some research into redecorating and scoured Pinterest for the images that felt calming to me. (you can see the full post on that here) With a fresh coat of paint, and the nightstands that stole my heart, our entire bedroom was transformed. There are still finishing touches that need to be made but overall I couldn't be happier with it.
I think there is so much to be said about how decor and even paint colors can affect us. Since changing our bedroom both Mike and I love to be in it and feel even more relaxed while we are inside. Every time I walk in it feels like an exhale. So I've rounded up some tips to help you add some calming coziness to your space.
CREATING A COZY BEDROOM
De-clutter. Take everything out of the room. Only then can you really evaluate what you want to bring back in. We were able to get rid of quite a few things which left our room with a lighter, less heavy feel.
 
Choose a paint color that feels calming. Look at paint colors and really try to pay attention to how each one makes you feel. It might seem like a silly thing to do, but you will see changes when you look at different colors. If you're stuck, I always go with neutrals because then the decor can be changed many times to give the room a different feel without having to repaint.

Love your bedding. Find a bedding set you truly love both by sight and by touch. Our sheets feel like velvet and it makes us look forward to getting into bed each night. 

Hold beauty over function. Now hear me out. I'm not telling you to give up all function, but to hold beauty in front of it. One of my mistakes was always putting our need for storage before getting something pretty. We had these utilitarian nightstands because we loved the storage it gave us, but they didn't do much in the ways of adding to the vibe of our room. Now when I found these nightstands I bought them instantly and I have to say, they transformed the room. The storage isn't completely perfect for us, but the trade off is more than worth it. 

Add soft lighting. There are so many creative lighting options these days that it's become pretty easy to add soft lighting to a bedroom. I use Luminara candles but I've even seen some adorable firefly lights that would bring charm to any room.
What are some ways you make your bedroom cozy? While this was a wellness post, if you'd like to see more home posts specifically, let me know in the comments or via email!
Check out what I'm pinning on Pinterest to find some inspiration for yourself!