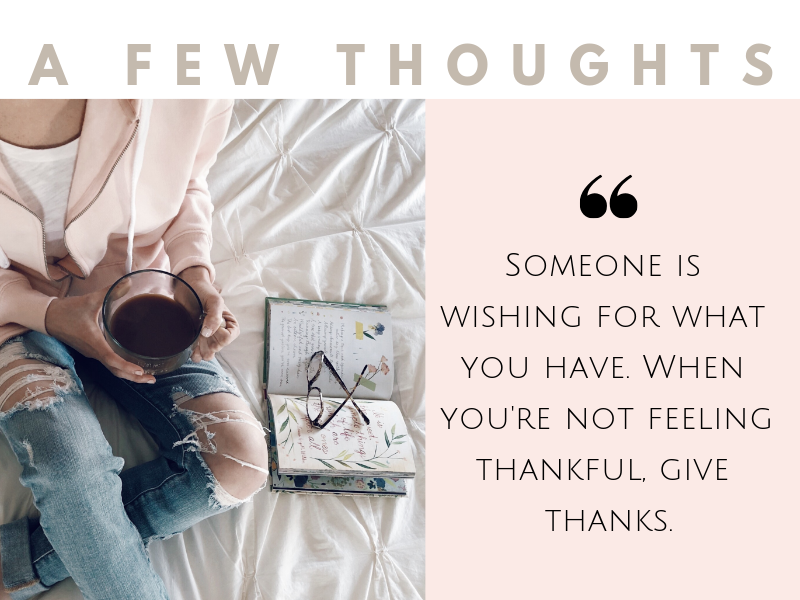 I asked you to tell me what you needed help with. I can start by saying I am sending a BIG hug your way. There were a few common themes and my heart felt sad thinking of you struggling to get into the holiday spirit. (coming from the Grinch who feels accomplished that she even has a tree up- despite it not being the least bit decorated.) Truth be told there were many years I skipped the decorating altogether- it felt like a hassle. The fun part of that was I didn't have to answer to ANYONE about it.
​So about not being in the Christmas spirit… I asked my friend how to make you all feel better and her response- "just let them know they aren't alone." And that's true. We are all in the misery together. Hear me out. It is in our nature (thanks social media) to wish for more than we have. In this day and age it is SO EASY to come from a place of lack- as opposed to a place of abundance. In fact, there is someone out there wishing for what you DO have. There's a teen wishing for the friends you have, an unhappily married woman is wishing for your single days, an over-scheduled mama is wishing for your quiet, the happily married woman is wishing for the baby you have, and the person on a journey back to wellness is wishing for your healthy body. Powerful thought isn't it?
Please don't misunderstand- by no means I am belittling the feelings that go along with wishing for more- there is NOTHING wrong with having dreams for your future. It's also possible to be thankful and not in the Christmas spirit all at once. Wishing for more is human- and I give you permission to do just that. I know I have.
In fact- wishing for more was my only line of thinking for a LONG time. My mantra was "It will be better when…" It will be better when I got a job. It will be better when I got tenure. It will be better when I finally meet someone." Spoiler alert: I eventually got all of those things- and sadly- by that time I had another piece of my life- another piece of my heart- taken from me. And I was never getting it back. Now I sometimes sit with all I DO have- missing what used to be- imagine that. I learned my lesson- sadly- too late.
The sad and most beautiful part of this message is that there will always be something to wish for. So this way you feel- it can only change if you shift your perspective.
In those years where something was missing for me- I showered what I did have with love. Even if my heart wasn't focused on the gratitude for friends, family, health of even employment- I chose those things and spoiled them rotten. I didn't have to buy tons of stuff- (though some years I did) thank you notes and small tokens go just as far and people are SO touched by even the smallest acts. If you're not feeling as thankful as you'd like- give thanks.
If you're not in the Christmas spirit- THAT'S OK. Sometimes there is just Christmas- and sometimes it's not as merry as we'd like. The things you wish for ARE coming- we never know how far they are. Until then be sure to look around at how things are now- because again, change IS coming- and you'll never again be where you stand today. For better or for worse. And sometimes we won't know which it is until we are looking back.