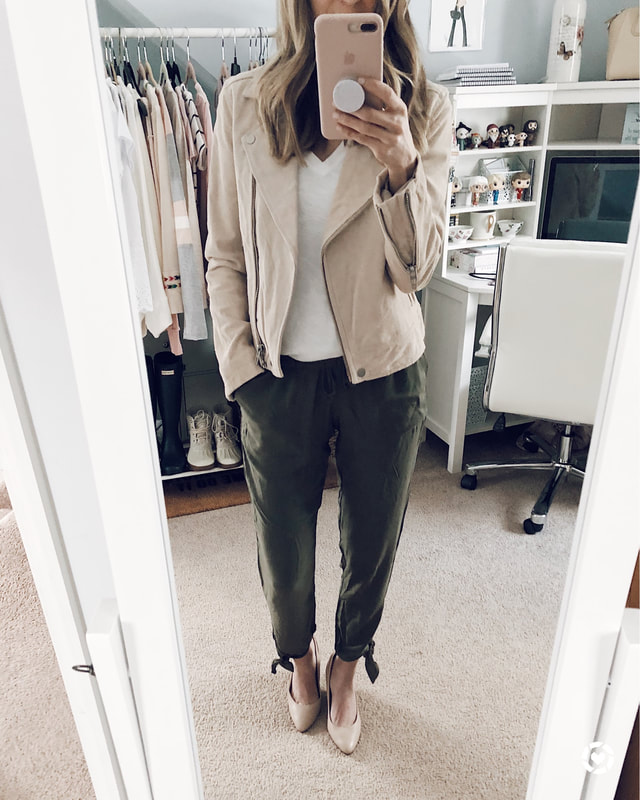 I'm always asked why my blog name has stilettos in it when I don't wear stilettos. To me, stilettos is a mindset. Even the most casual outfit can have polish. It's the Stiletto Effect. I always like to look put-together even when I'm dressed down, and I love to dress up some super comfy pieces too.
​
For once, I have been loving the trends I'm seeing in pants lately. I've been making a sport of finding comfortable pants that I can dress up for work. So here's my guide on how best to do that now that we are heading into Spring.
The ties on the ankle of these pants are to die for. I love how comfy they are too. A jacket can transform any pants and this moto is a great option. Too warm for that? You can even just go with a denim jacket instead.
Truth be told I'm loving the wide leg trend. Not the CRAZY wide leg trend, but definitely some of the newer silhouettes. I think I shopped for this style more than any other this weekend.
Joggers are kind of a new obsession for me, and I'm LOVING dressing them up for work. Here are a few of my favorite pairs. These are on MAJOR sale today!
Dressing up comfy pants really comes down to the shoes. Wedges are my favorite style of shoe pretty much forever, but block heels have become a closer second. If heels aren't for you, a great loafter can do the trick too.