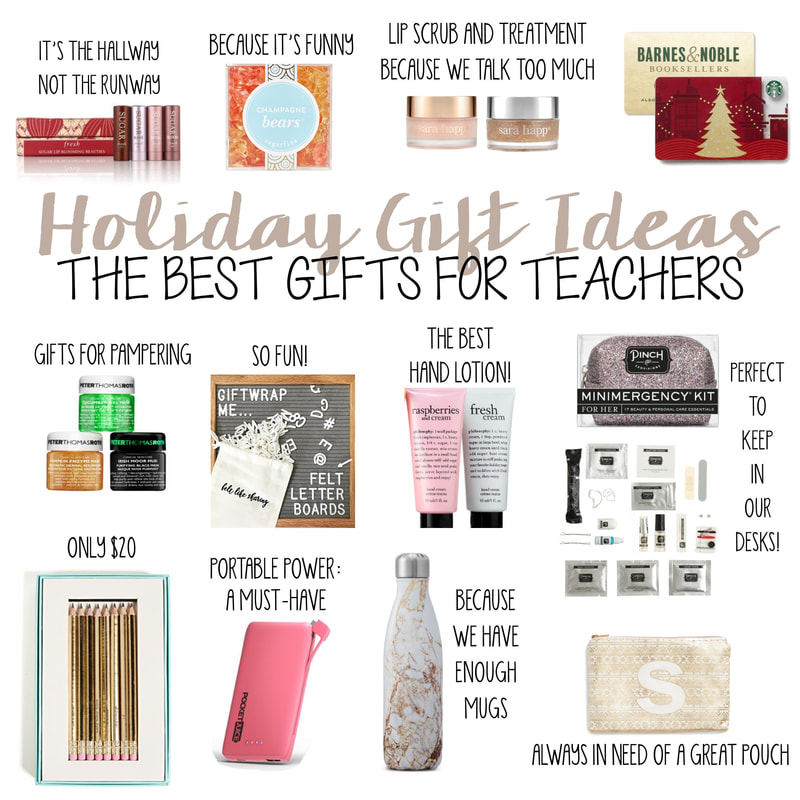 I got quite a few messages about the best gifts for teachers. I'm happy to take requests and to give you what you want in your gift guides and blog picks to make your holiday shopping easier. I do want to make sure that I say I can speak for every teacher when we say a thank you really is enough. I cherish those letters parents (and kids!) take the time to write to me. I have a folder in my filing cabinet with years worth of papers collected so I can read them on my bad days. That said, I thought I'd round up some awesome teacher gifts with my usual flare for humor and sarcastic wit. 
What you should ACTUALLY get a teacher for the holidays
I've seen a lot of teacher gift guides floating around the ether and I usually cringe when I do. Non-teachers rounding up what teachers REALLY want. Everyone put down the Pinterest project- we don't want you spending your time on us! (though I will say I got one of the best I've ever received this year… a mason jar full of Sharpie markers- use them EVERY day!) We don't need much, but getting a great gift can be awesome, so here are my top picks.
Water Bottle | We keep water bottles on our desks at all times, (balances out all of the coffee) and having a pretty one can brighten any day. We do get so many mugs that it'd be a great change to have this with us each day!
Small Pouch | We ALWAYS need pouches. Always. For home, school, our desks or our bags!
Lip Treatment | I recently discovered this lip scrub and treatment and I am smitten. We talk SO MUCH and our mouths and lips are endlessly dry. This little kit is the perfect indulgence! You know my love for these glosses as well- they are universal and the brand is a trusted one!
Office Supplies | We LOVE office supplies. Most teachers have to buy these themselves, and if we DO ask for something, it could take months to get. I love having pretty office supplies to use at my desk. It is a nice little pick-me-up.
Hand Lotion | Always appreciated since we wash our hands 80x per day. I just discovered this one too and it's definitely amazing!
Portable Power | I can't tell you the number of times we have run around the building trying to find either a charger- or a plug for that matter. Schools are kind of like black holes and plugs are super hard to come by. This charger is amazing because it plugs right into the outlet to charge itself and then charges your phone 1-2x. I have it and love it!